Cooperation with local communities in the City and the Prefecture of Kyoto is crucial in bridging with society. Although these initiatives take place in Kyoto and its surroundings, they bring together partners, sponsors, and participants from around the world to address situations in ways that set good practices and that can be replicated elsewhere.
Cooperation with local governments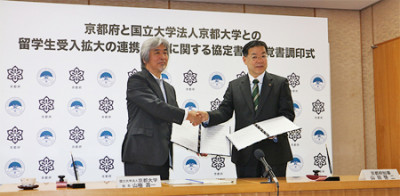 Kyoto University works in close partnership with the Government of Kyoto Prefecture, promoting the internationalization of the University and local communities by providing more and better services in a joint effort to attract more international students. A collaboration framework has been established to:
expand dormitories and facilities available for international students;
promote exchanges among students, local communities, and businesses;
develop increasingly attractive curricula; and
increase exchanges with universities and students overseas.
Read more about collaboration with Kyoto Prefecture.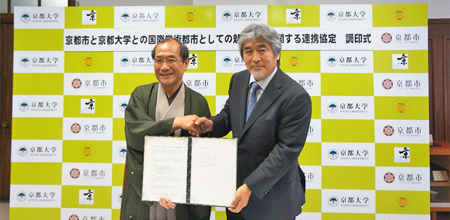 Similarly, the University and the City Hall cooperate in promoting Kyoto as an "International Academic City". Recently, a bilateral agreement was signed to enhance the use of strategic resources and know-how to render the city a more attractive destination for organizing international academic events. In so doing, they seek to attract increasing numbers of international students and researchers, while further expanding training and other related activities in the area of tourism.
Read more about collaboration with Kyoto City.
Connecting with local communities through educational services
Open lectures are a key channel to connect with society. These talks represent a form of engagement with strong tradition in the University aimed at improving learning experiences, living conditions, and networking capabilities of key partners in and around the University. The University brings its academic potential to address issues of common interest with local communities by making its resources and research accessible through regular and ad hock events.
Examples of this are the free conferences offered through the open lectures held in spring and fall (in Japanese); the Learning in Tokyo about the wisdom of Kyoto University (in Japanese), and the Kyoto University regional lectures (in Japanese).
In the Mirai Forum (in Japanese), the University provides public lectures to support life-long opportunities for adults, featuring graduates active in their fields. The event also serves as a platform for interaction and exchange with other organizations. Since 2004, and as of July 2018, 71 lectures have been held.
Read more about open lectures/conferences (Japanese only).