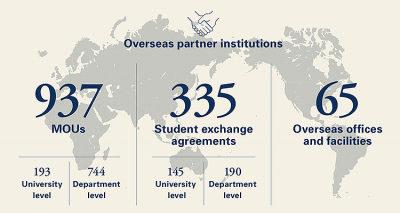 As a university open to the world, Kyoto University has historically engaged with partners around the globe to foster international academic cooperation.
The University's international partners constitute an essential asset that contributes not only to educational development and innovative research but also to multicultural diversity.
Kyoto University has long served as a platform where international researchers gather to share and disseminate created knowledge, to promote the development and transfer of technology, and, above all, to connect people who share passions.
Working together with a wide variety of partners, both in Japan and abroad, at the bilateral level and also through multilateral networks and alliances, the University has actively promoted international exchange and exposure through the mobility of students and academic and administrative staff, active joint research beyond frontiers, the organization of international symposia, the strong promotion of international fieldwork, and participation in multilateral networks and events, official visits, and more.
In order to further expand its international engagement, in 2019, Kyoto University embarked itself in two new schemes aimed at enhancing already existing relations: the On-site Laboratories Initiative and the framework for Strategic Partnerships.
The University fosters linkages with local communities, connecting its own work to local activities in Kyoto and beyond. It also promotes solid relations among former students and researchers through its network of international alumni associations.