Safety for students, faculty, and staff traveling abroad
Overseas Travel during the Prevalence of COVID-19
As of 8 May 2023, COVID-19 is no longer classified as "pandemic influenza (novel influenza or re-emerging influenza) etc." under the Act on the Prevention of Infectious Diseases, and is categorized as a Class 5 infectious disease in Japan. The Ministry of Foreign Affairs of Japan (MOFA) also lifted its COVID-19 infectious disease travel warnings for all countries and regions on 8 May. However, the risk of COVID-19 infection has not yet been eliminated. Therefore, please be sure to confirm the notes regarding overseas travel in PDF file below.
(15 May 2023) Overseas Travel during the Prevalence of COVID-19
Safety leaflet for travelers
International travel can be a valuable and enriching experience. However, careful preparations are needed to ensure safety.
As part of such preparations, aiming to ensure safety and to prevent infectious diseases that spread internationally, students, faculty, and staff traveling abroad are advised to carefully read "Safe Travel Abroad", a safety leaflet containing a "Traveler's check list" and an "Emergency card".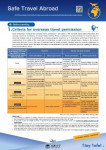 Safe Travel Abroad (919KB)
Safety Guide for Students Engaged in Overseas Fieldwork
This safety guide provides information about the precautions that must be taken when engaging in overseas fieldwork.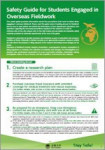 Safety Guide for Students Engaged in Overseas Fieldwork (552KB)
Safety measures checklist for faculty and staff in charge of students' study abroad programs
This checklist is intended for faculty and staff in charge of students' study abroad programs, summarizing essential information on safety measures to be taken by students before and during their travels. Please feel free to modify it to suit the individual students' travel plans and programs.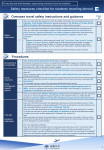 Safety measures checklist for faculty and staff in charge of students' study abroad programs (268 KB)
Framework to ensure safety in international activities
Kyoto University fosters international mobility of its members in the search for advancements in the arts and sciences around the globe. This has always been a driving force of the University in its efforts to stay original, innovative and engaging.
Every year, representatives, professors, researchers, students and administrative staff go abroad to find inspiration, to boost collaboration, and to challenge and develop new avenues of thought and creativity. The University brings the best of itself to the world, encouraging and supporting international mobility, but also providing a framework that ensures their safety wherever they are.
As a pioneer in Japan in the area of international education and research, Kyoto University is committed to maintaining the safety of its students, faculty, and staff, and to continuously enhance its comprehensive measures to boost the security of its community members. Such measures include:
Policy on risk prevention & crisis management
At the base of the policy, internal regulations on risk management state that:
Safety of students, faculty, and staff is the University's highest priority.
Measures for risk prevention shall be emphasized.
The University shall maintain an efficient crisis management scheme to ensure prompt and informed actions to mitigate damage and promote quick recovery.
These regulations also determine a) the responsibility of the constituents of the University, b) assessment of the level of a crisis, and c) how to manage and recover from the effects of the crisis.
Risk & crisis management framework for international activities
Supporting the above-mentioned regulations and aiming to provide quick and effective solutions in crises, the University continues to develop and expand the following mechanisms for international activities:
Emergency response plans
Safety confirmation system online
Close cooperation with risk management companies
Support offered by the University's Overseas Offices
Encouraging the use of pertinent insurances for students, faculty, and staff
Safety training for international students in Japan
Safety training for students, faculty, and staff traveling abroad
Criteria for overseas travel permission
Enacted by the International Strategy Office Management Council, the Criteria for overseas travel permission serves as a guideline for faculty and staff in charge of overseas travel permission.
When deciding to grant or deny a travel permission request, the faculty or staff in charge should take into consideration the safety situations of the intended destinations and various other factors that can affect travelers. In the case of travel to multiple countries and regions, safety situations at all the destinations must be considered.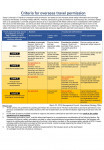 Criteria for overseas travel permission (197 KB)
Safety information and tips for travelers abroad
Safety tips: before and during travel abroad
Prepare for travel by carefully reading the leaflet for students, faculty, and staff: Safe Travel Abroad.
Make yourself familiar with the destination and local information. Pay due attention to local laws, customs, health and hygiene conditions, and safety.
Make sure you know all entry/exit requirements such as visas, laws, safety information, customs, medical care, etc, by visiting:
- Ministry of Foreign Affairs of Japan: Overseas safety homepage (in Japanese)
- International safety information provided by governmental organizations other than Japan, eg, the USA and the UK
- Ministry of Health, Labour and Welfare of Japan: Health information for travelers abroad (in Japanese)
- World Health Organization (WHO)
- Websites of embassy(ies) or consulate(s) of your destination(s)
Make sure you get first-hand information on your destination from your partner researchers/institutions and/or Kyoto University's Overseas Offices and facilities.
Make sure you have read all required documentation provided by the University for International travel, and submitted all required documentation.
Make sure you have enrolled in necessary safety mechanisms, eg, Tabi Reji (in Japanese).
Make sure you purchase pertinent travel insurance. A travel insurance policy with unlimited coverage for medical treatment and relief expenses is strongly recommended.
Enhancing preparedness for crises or emergencies when abroad
When traveling abroad, the University strongly encourages its members to make themselves prepared for potential crises as follows:
Make a list of emergency contacts, written either in the local language of the destination or in English, and keep it handy.
An emergency contact list form is available in the leaflet "Safe Travel Abroad".
Keep the contact information at hand of the nearest embassy of the pertinent country.
Get familiar with local laws, customs, medical care, local news and how to get access to the Internet.
Prepare both photocopies and e-copies of important documents such as passport(s), travel insurance certificate(s), ticket(s), itinerary(ies), medical certificate(s), and credit card(s).
Prepare an emergency kit, including copies of your passport, insurance card, and medications (if necessary), cash, supplies of food and water, etc.
Stay in contact with Kyoto University.
Addressing crises or emergencies when abroad
If you face an emergency or a crisis:
First ENSURE YOUR SAFETY and STAY CALM.
Think of possible solutions or an exit strategy.
Contact relevant people / organizations / Kyoto University and ask for assistance.
Get safety information from local acquaintances, television, radio, Internet and other sources.
Stay in touch with your family, local acquaintances, local officials, and pertinent embassy(ies)/consulate(s). Embassies and consulates can provide 24-hour assistance.
For more information, please contact:
International Affairs Division
Email: intl_risk_mgmt*mail2.adm.kyoto-u.ac.jp (replace * with @)