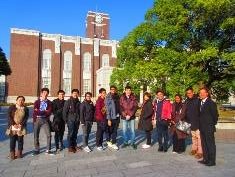 Dedicated to fostering global citizens, Kyoto University expands its network of partners for student exchange programs, offering its students a wide range of destinations for studying abroad and exploring new horizons.
These represent opportunities that open doors for Kyoto University's students to experience the real world and build their own international networks. Students visiting from partner universities, in turn, add diversity to the campuses in Kyoto.
These programs are typically organized as exchanges with mid- and long-term courses, lasting a semester or an academic year, while short-term programs such as summer, winter, and spring programs are also popular among students.
International mobility through academic exchanges is actively promoted both at the University-wide level and the department/faculty level, with the latter generally focusing on specific academic areas.
Find out more by visiting: