日本語ページは こちら (Japanese)
About KI-ZU-NA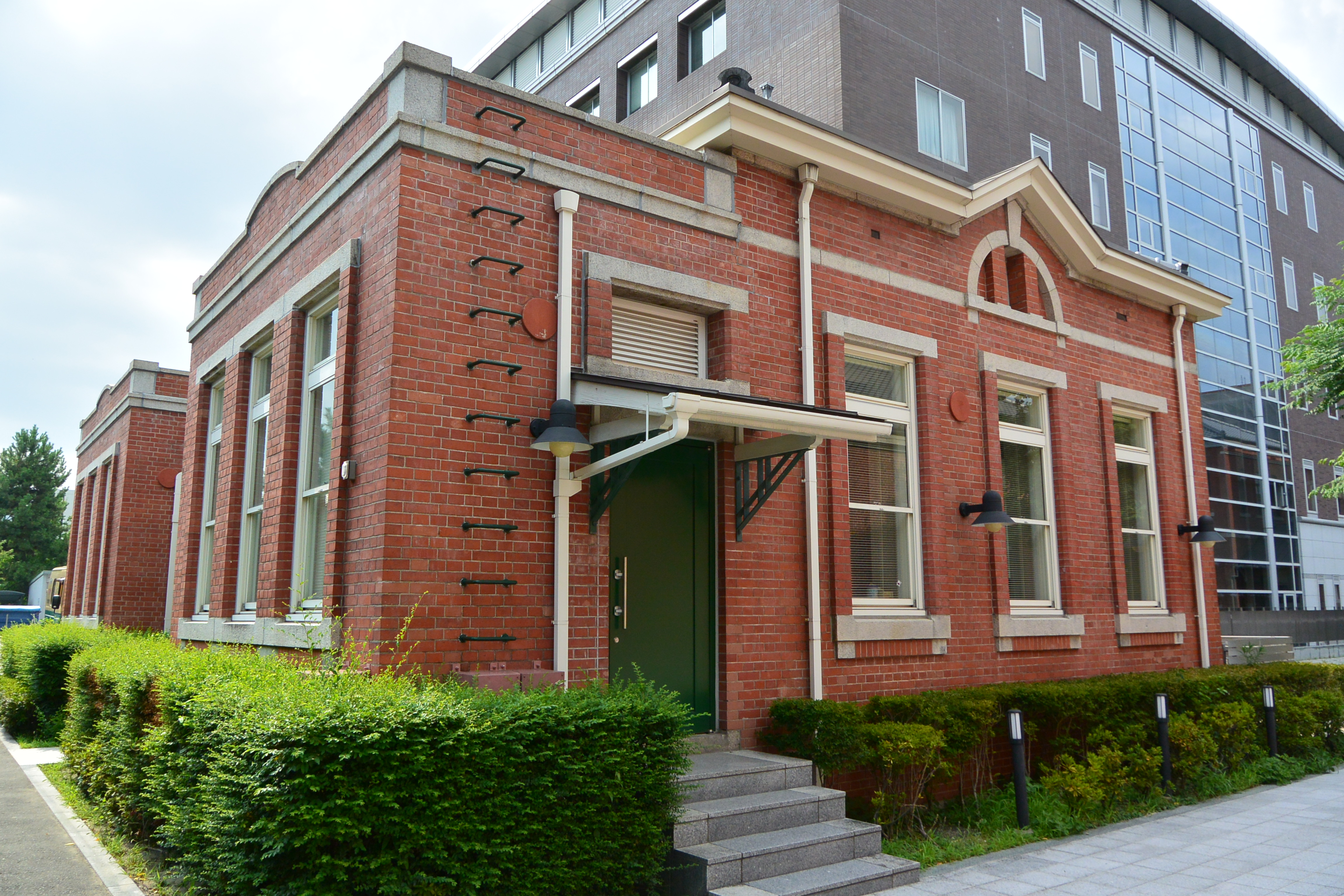 Student Lounge 'KI-ZU-NA' (KIZUNA), meaning "bonds" in Japanese, opened in the spring of 2002 as a place for students to create bonds of friendship across borders. KIZUNA now welcomes all members of the community -- including staff, faculty, and researchers, as well as students -- to spend time together and join or organize cross-cultural activities.
The facility features a Reading Room, stocked with language learning materials, and a Salon where international students can receive advising services.
KIZUNA hosts its own event every month, offering opportunities for participants to experience Japanese culture and get to know their counterparts from other countries. Featured activities in the past have included tea ceremony, wagashi (Japanese sweets) making, traditional dance, shamisen (three-stringed musical instrument) practice, and calligraphy.
Facility hours and remarks
Reading Room and Audio Room: Monday-Friday 9:00-17:00 (excluding holidays)
No smoking. No eating. Drinks with lids permitted.
Salon: Monday-Friday 10:00-17:00 (excluding holidays)
No smoking. No eating. Drinks with lids permitted.
Reading Room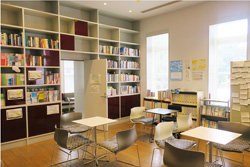 The Reading Room, located to the left of the entrance, is the main room of the building.
In addition to a fulltime staffer, one student tutor (office assistant) is available every day to help visitors.
Language learning materials
The Reading Room houses an extensive collection of materials for learning Japanese and preparing for English-language tests, such as TOEFL, TOEIC, and IELTS. The Japanese-learning resources include classroom textbooks, books on Japan written in various languages, illustrated introductory textbooks, DVDs, and other visual and audio materials.
Each user may borrow up to 3 items for 2 weeks. Students are encouraged to make use of these resources to hone their language skills.
Borrowing from the Reading Room library requires a membership card, available by application to KIZUNA.
There are also magazines and free newsletters to provide visitors with the latest information.
Resources for studying abroad
Japanese students interested in studying abroad will find a wealth of useful resources in this room, including brochures on Kyoto University's student exchange partners and other overseas academic institutions.
There are also firsthand accounts from past participants of the student exchange programs, as are guidebooks and magazines covering relevant topics.
Anyone with an interest in study-abroad opportunities is encouraged to visit and browse these materials.
Language exchange
Attention: The physical language-exchange bulletin board described below is unavailable for use until further notice.
In the KIZUNA building, there is a bulletin board for those looking for someone to teach them a language in exchange for lessons in their own languages. For example, English speakers may use this board to find a Japanese student who might be interested in teaching them Japanese while learning English from them. Messages may be handwritten, and be in English or any other language. Posting is free of charge and does not require prior registration.
Language exchange is recommended for those preparing to travel abroad for study, research, or pleasure, and for anyone with a desire to learn a new language.
Feel free to drop by to leave or check messages.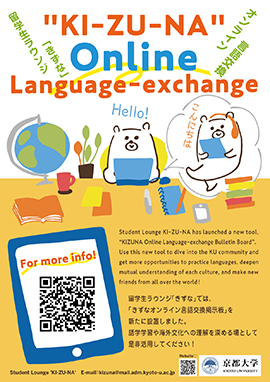 Online language exchange
In light of the ongoing COVID-19 pandemic, students are advised to conduct all language-exchange sessions online, such as by using the service described below, instead of in-person.
KyotoU students can now practice languages and make new friends from other cultures using KIZUNA's Online Language-Exchange Bulletin Board.
Visit the following page to learn about how to register for and use the service: https://sites.google.com/view/kizuna-onlinelanguageexchange
Salon (for advising services)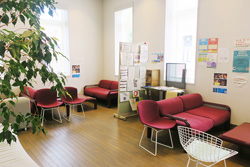 Located to the right of the building's entrance, the Salon is furnished with sofas, chairs, tables, and houseplants to offer a comfortable space.
Audio Room
The Audio Room is equipped with a TV set and DVD player for watching movies or practicing listening comprehension. A carefully selected collection of Japanese movies and cultural documentaries are available for rent. Students are encouraged to make use of these materials for learning and fun.
Getting to KIZUNA
To reach KIZUNA from the Main Gate (1), turn left, walk past Cafe-Restaurant "Camphora" (2) and the Center of Student Health/Kyoto University Infirmary (11, also known as Health Clinic), and enter the one-story brick building on your right (13).

1. Main Gate/2. Cafe-Restaurant "Camphora"
3. Clock Tower/11. Kyoto University Infirmary (Kyoto University Health Clinic)
13. Student Lounge 'KI-ZU-NA' (KIZUNA)
14. University Head Office/15. International Seminar House
16. International Education and Student Mobility Division and others
Staff
A fulltime staffer and a student tutor are always available to assist visitors. We also take suggestions on how to improve services at KIZUNA.
Advising services
Several advisors take turns to be in the KIZUNA Salon to offer consultation to international students. Students are encouraged to seek assistance with any problem or concern that they feel may be too difficult to manage alone. They may, for example, ask for advice on how to adjust to life in Japan, deal with a psychological or interpersonal issue, or complete procedures for receiving scholarship payments.
Consultation is conducted in the Salon to ensure privacy and confidentiality.
Reservations are not required, so please drop by whenever you feel in need of help.