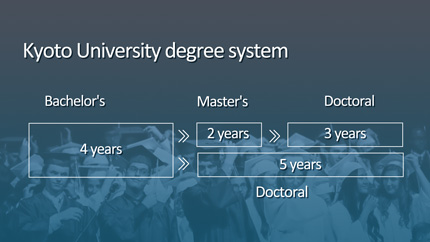 Note: Some departments may have different systems.
Visit the official website of each Faculty or Graduate School to learn about its degree system.
Degree programs
Studying in English
English-taught degree programs
Studying in Japanese
Kyoto University does not have any academic department specifically focused on Japanese-language studies. Those who need to study the language, such as to prepare for the University's entrance examinations, are advised to attend an appropriate language school.
Applying in English, and learning and studying in Japanese
Kyoto University International Undergraduate Program (Kyoto iUP)
Kyoto University now offers a 4.5-year bilingual program, Kyoto iUP, comprised of a six-month preparatory course, followed by four years of undergraduate studies. Japanese language proficiency is not required at the outset. Students will study for degrees in their chosen fields while developing a deep understanding of Japanese language, culture, and customs.
For details, visit: http://www.iup.kyoto-u.ac.jp/