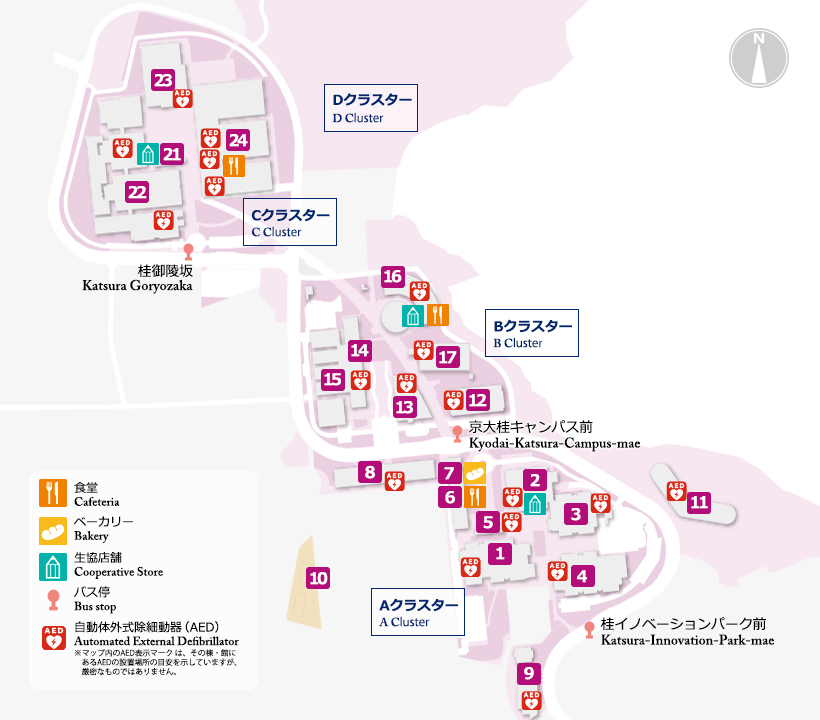 A Cluster

1

A1 Bldg.
Department of Electrical Engineering
Department of Electronic Science and Engineering
Photonics and Electronics Science and Engineering Center

2

A2 Bldg.
Department of Energy and Hydrocarbon Chemistry

3

A3 Bldg.
Department of Material Chemistry
Department of Polymer Chemistry

4

A4 Bldg.
Department of Molecular Engineering
Department of Synthetic Chemistry and Biological Chemistry
Department of Chemical Engineering

5

A Cluster Office Bldg.

6

Cafeteria (TBA)

7

Bakery Cafe "Boulangerie Seri"

8

Energy Management Center

9

Innovation Plaza

10

Tennis Court

11

Kyoto University ROHM Plaza
B Cluster

12

Funai Center
Student Support Center Counseling Office Katsura

13

Funai Tetsuro Auditorium

14

Katsura Campus Administration Bldg.

15

Katsura Int'tech Center
Division of Low Temperature and Materials Sciences

16

Campus Service Center
Occupational Welfare Division (Health Care Office
Katsura Branch), Agency for Health, Safety and
Environment
Cafeteria "Selene"

17

Katsura Library
C Cluster

21

C Cluster Office Bldg.

22

C1 Bldg.
Department of Civil and Earth Resources Engineering
Department of Urban Management
Department of Environmental Engineering

23

C2 Bldg.
Department of Architecture and Architectural Engineering

24

C3 Bldg.
Department of Mechanical Engineering and Science
Department of Micro Engineering
Department of Aeronautics and Astronautics
Department of Nuclear Engineering
Cafeteria "Soleil"
Getting to Campus
Bus timetables (in Japanese):
Kyoto City Bus
Keihan Kyoto Kotsu Bus
Yasaka Bus
Railway station
Boarding bus stop
Bus route
Travel time
Arrival bus stop
Hankyu Railway
Katsura Station
Katsura Statation (Nishiguchi)
Kyoto City Bus Nishi 6
(Katsurazaka-chuo)
About 12 minutes
Katsura Innovation Park-mae,
Kyodai Katsura Campus-mae
(Kyoto Univ. K),
or Katsura Goryozaka

Katsura Station (Nishiguchi)

Keihan Kyoto
Kotsu Bus
20 and 20B
(Katsurazaka-chuo)
About 12 minutes
Katsura Innovation Park-mae,
Kyodai Katsura Campus-mae
(Kyoto Univ. K),
or Katsura Goryozaka
Taxi
About 8 minutes (fare: about 1,200 yen)
JR Katsuragawa Station
Katsuragawa Station
Keihan Kyoto
Kotsu Bus22
(Katsurazaka-chuo)
(Service available
at low frequency)
About 20 minutes
Katsura Innovation Park-mae,
Kyodai Katsura Campus-mae
(Kyoto Univ. K),
or Katsura Goryozaka
Katsuragawa Station
Yasaka Bus6
(Katsurazaka-chuo)
About 20 minutes
Katsura Innovation Park-mae,
Kyodai Katsura Campus-mae
(Kyoto Univ. K),
or Katsura Goryozaka
Taxi
About 10 minutes (fare: about 1,500 yen)
JR/Kintetsu Railway
Kyoto Municipal Subway
Tozai Line
Kyoto Station
Kyoto Station
Keihan Kyoto
Kotsu
21 and 21A
(Katsurazaka-chuo)
About 45 minutes
Katsura Innovation Park-mae,
Kyodai Katsura Campus-mae (Kyoto Univ. K),
or Katsura Goryozaka
Taxi
About 35 minutes (fare: about 4,000 yen)