Juichi Yamagiwa, 26th President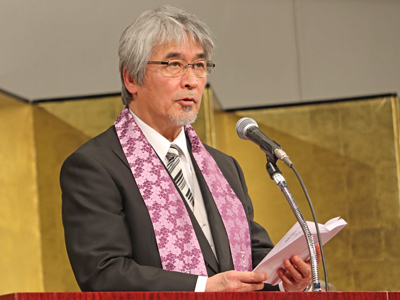 Today, Kyoto University is proud to award master's degrees to 2,203 students, professional master's degrees to 148 students, juris doctor degrees to 129 students, and doctoral degrees to 585 students. Of these graduates, 363 are from outside Japan. Let me begin by offering my sincere congratulations to all of you on your accomplishments.
With today's ceremony, Kyoto University will have awarded, to date, master's degrees to 81,168 students, professional master's degrees to 1,845 students, juris doctor degrees to 2,254 students, and doctoral degrees to 44,850 students. On behalf of our guest of honor, Professor Emeritus Carl Bradley Becker, along with the Vice-Presidents, Deans, Leading Graduate School Program Coordinators, and Directors here today, and all the other faculty and staff, congratulations to each and every one of you on receiving your degrees.
At Kyoto University, master's and doctoral degrees are granted in 23 different fields of specialization, such as the "Doctor of Letters". Seven years ago we also began offering Leading Graduate School Programs, and the students who have completed them will receive degree certificates specifying these programs. I am genuinely proud and delighted that you have worked so hard to hone and perfect your skills, learning from and inspiring one another day and night, in all of these fields of study. Today's conferment ceremony is both a destination you have been working toward and the launching pad for your future. I hope that the academic degrees awarded today will be of great help to you in carving out your career paths.
The world is currently on the verge of transformation from a capital-intensive, labor-intensive society into a knowledge-intensive society. Information will be of immense value in this new environment, and major roles will be played by information and communications technology and artificial intelligence (AI). Such technologies are already being utilized in areas such as disease diagnosis and drug discovery. AI will be used to pinpoint the causes of illness out of massive volumes of data, and to formulate and administer appropriate methods of treatment, with medical robots performing surgical operations safely and with precision.
In the meantime, Kyoto University's Center for iPS Cell Research and Application (CiRA), headed by Professor Shinya Yamanaka, has been making great strides in using iPS cells to develop new drugs and medical treatments. These technologies are also proving useful in the cultivation of safe, nutritious, and high-yield vegetables, and meat that is both tasty and can be produced in a short amount of time.
New technologies are emerging one after another in quick succession, from driver monitoring and smart city sensing that can make self-driving cars a reality, to product identification using cameras and AI, automatic multi-lingual translation, and disaster information analysis. These developments are sure to change our lives dramatically. There are those predicting that the year 2045 will mark the advent of the "singularity", in which AI exceeds the capabilities of the human brain.
One of the 2018 awardees of the Nobel Prize in Physiology or Medicine was Kyoto University's own Tasuku Honjo, who discovered PD-1, a protein present on the surface of cancer-attacking T cells and involved in the inhibition of these cells, and went on to develop a revolutionary cancer immunotherapy based on this knowledge. Following many years of research, Professor Honjo found that cancer cells can evade an immune response from T cells by binding their own PD-L1 proteins to PD-1, effectively blocking the latter's activation. Next, he manufactured an antibody to PD-1, and developed a mechanism whereby this antibody prevents PD-L1 from binding to PD-1, so as to enable T cells to carry out an immune response.
This success led to the development of commercial immune checkpoint inhibitors, such as OPDIVO and KEYTRUDA, which are today being used by cancer patients the world over. This revolutionary cancer treatment, along with the groundbreaking drug that made it possible, resulted from Professor Honjo's tireless effort to build on findings from low-key basic research to develop clinical applications, an endeavor recognized with a Nobel Prize as a contribution to humanity. This approach has thrown new light on the future of cancer treatment, as it is completely different from the conventional methods of surgically removing cancer cells or destroying them with radiation or anticancer drugs.
I had the privilege of attending last December's Nobel Prize award ceremony, where I watched with great pride as Professor Honjo, dressed in traditional Japanese formal attire, accepted his medal and certificate from King Carl XVI Gustaf at the venerable Stockholm Concert Hall. I was elated to note that our University now has two Nobel laureates among its active faculty, the other being Professor Yamanaka, who was awarded the 2012 medicine prize.
It has been 70 years since Hideki Yukawa became Japan's first Nobel laureate in 1949 by receiving his prize in physics. Times have changed, and science and technology has made significant progress since then, yet Kyoto University's creative spirit remains unchanged, as does our position of leadership in academic research. Last year, for example, Specially Appointed Professor Masaki Kashiwara of the KyotoU Research Institute for Mathematical Sciences received the Chern Medal, an award recognizing exceptional lifelong achievement in the field of mathematics, as well as the Kyoto Prize, one of Japan's foremost international awards. I anticipate that young researchers will emerge in quick succession to carry on the work of these professors.
Looking through the report on the dissertations for which students are receiving degrees today, I noted that, as would be expected of Kyoto University, many of the papers describe basic research in great breadth and depth, and quite a few address topics related to recent developments in the world. Examples of these topics include: cross-cultural encounters resulting from globalization, multiculturalism, human migration, movement of goods, global-scale climate change, natural disasters, reorganization of political and economic systems driven by rapid social changes, and new methods of treatment for mental illness and other medical conditions.
The common thread running through all of these works is that they apply incisive analysis to ongoing social problems and unresolved issues, yielding fresh evidence and proposals for resolution. I am sure that these proposals, grounded as they are in reliable data and deep analysis, will serve as important guideposts for the future.
There are many studies with enticing titles that made me want to learn about the research described, and other dissertations containing new research beyond my capacity for understanding. I am awed by the diversity of the fields covered, and positive that such diversity, creativity, and vision will lead to world-changing ideas, discoveries, and technologies.
In October last year, Kyoto University hosted a symposium to commemorate the 100th anniversary of the birth of Kenichi Fukui, a 1981 Nobel laureate in chemistry. On that occasion we welcomed Professor Roald Hoffmann from Cornell University in the United States, who was co-recipient of the Prize, to talk of his memories of Professor Fukui. Professor Hoffmann recalled that Fukui, who was twenty years his senior, was a master at employing original approaches to chemistry and using quantum mechanics calculations to yield sophisticated insights. He also mentioned that the two shared an interest in both science policy and art appreciation.
As well as reminiscing on this relationship, Professor Hoffmann talked about the "great wave of simulation" surging up all around us today, likening our situation to one of Katsushika Hokusai's One Hundred Views of Mount Fuji , which depicts a small boat being tossed in the high seas with Mount Fuji in the background. Referring to one of last year's major news stories across the world, Professor Hoffmann explained how machine learning had enabled researchers in chemistry to perform calculations with unprecedented speed and accuracy, and at comparatively low cost, making it easy to predict electronic properties and identify rigid materials. He also touched on data mining, mentioning that according to a certain advertising agency, a simple process can potentially be used by a diaper company to send a discount coupon for its products to a teenage mother-to-be even before her father becomes aware of her pregnancy.
But it is not just greater convenience that these new technologies can bring about. When scientists showed a deep neural network a set of five photographs of the same man, it was able to predict his sexual preferences with 91% accuracy. This kind of technology can be applied to manipulate public opinion, and concern is growing that it will lead to greater social divisions and more surveillance in many countries.
I believe that virtually all scientists are seeking to use their research to attain a greater good beyond their capacity to predict. We derive great joy and a sense of security from understanding all sorts of phenomena in the world around us. Essential to such understanding, Professor Hoffmann explained, is logic, which makes it different from mere prediction. Simulation makes use of the latest information technologies such as machine learning and artificial neural networks, but the computers performing these functions do not understand chemistry or physics. They are search engines, which only seek to match data sets with answers.
It would be ideal if we could look forward to a brighter future in which big data is shared by all, but it is also conceivable that we will experience major disruption of a scale that nobody has ever seriously contemplated; as humans undertake fewer important tasks, Professor Hoffmann warns, there is a risk of inequalities becoming even more pronounced than they are today. Moreover, he predicts that centralized system administration will give rise to autocratic power in the economy and government, with simulation co-opted for the purposes of control.
Hoffmann suggests that in order to avert this outcome, we need to experiment with ways to achieve coexistence between machine simulation and human understanding. Citing Fukui's seminal 1964 study, he preaches the importance of logic, rather than mathematical simulation, as something that can lead humans to understanding, arguing that for the sake of each individual, for society, and for the world today, we need to strike a balance between the intrinsic value of human understanding and the efficiency of simulation.
In the future, AI and IT will likely permeate the moral dimension of human life as well, with art and human sensibility providing the final bulwark against the excesses of science and technology. While blessed with a wealth of information, we live today in an insecure society, where individuals are isolated and left to contend with various risks on their own. We cannot rely on AI to help us spend quality time with friends; I believe that such experiences are deeply rooted in our bodies and utterly at odds with the pursuit of efficiency. Information has no sensibility, and can be modified in all sorts of ways in line with different aims; in other words, information is highly useful but not well-matched to the abilities of humans. That is why I believe we need to envisage an ultra-smart society, one designed to effectively promote happiness as an experience rooted in our bodies. This will require profound learning across the arts and sciences, and expansive knowledge that ranges freely through time and space.
I hope that all of you receiving degrees today will take full advantage of the superior capabilities you have cultivated here at Kyoto University, and find ways for your intellect to flourish in these complex times. Academic work requires a sensitivity to the era in which one lives. In addition, and regardless of your academic discipline, it is also essential to have a wide-ranging education and a solid grasp of fundamentals. The capacity to discover uncharted areas and unexplored topics can be nurtured through experiences of playing in natural surrounds as a child, and of seeking knowledge in fields different from one's own. Today, however, the approach to science throughout the world seems to have become fairly uniform, with a tendency to be tied to technology and focused solely on producing innovations with immediate application in society. I believe that it is important for all researchers to look beyond their own academic disciplines, incorporating a broad range of knowledge from other fields and even an appreciation of the arts into their work, and each developing an individual sensibility and scientific intuition.
I am confident that during your research life here at Kyoto University, each one of you has cast your eyes over many different fields and developed your own distinctive academic world through vigorous dialogue with others. That is testimony to your studies at Kyoto University, and will be a priceless asset in your life from here on. Moreover, your dissertation is the ultimate gift you can give to future generations, and the footprints you are leaving behind will serve as a guide for those who will come after you. I believe that the value of these gifts will be determined by whether or not you can maintain your pride as KyotoU alumni. It is extremely unfortunate that there has recenty been a spate of research misconduct, which has resulted in fierce public criticism of researchers. I hope that each one of you will rely on the pride and experience you have nurtured at Kyoto, and go on to pursue brilliant careers.
Once again, let me offer my sincere congratulations to each and every one of you here today.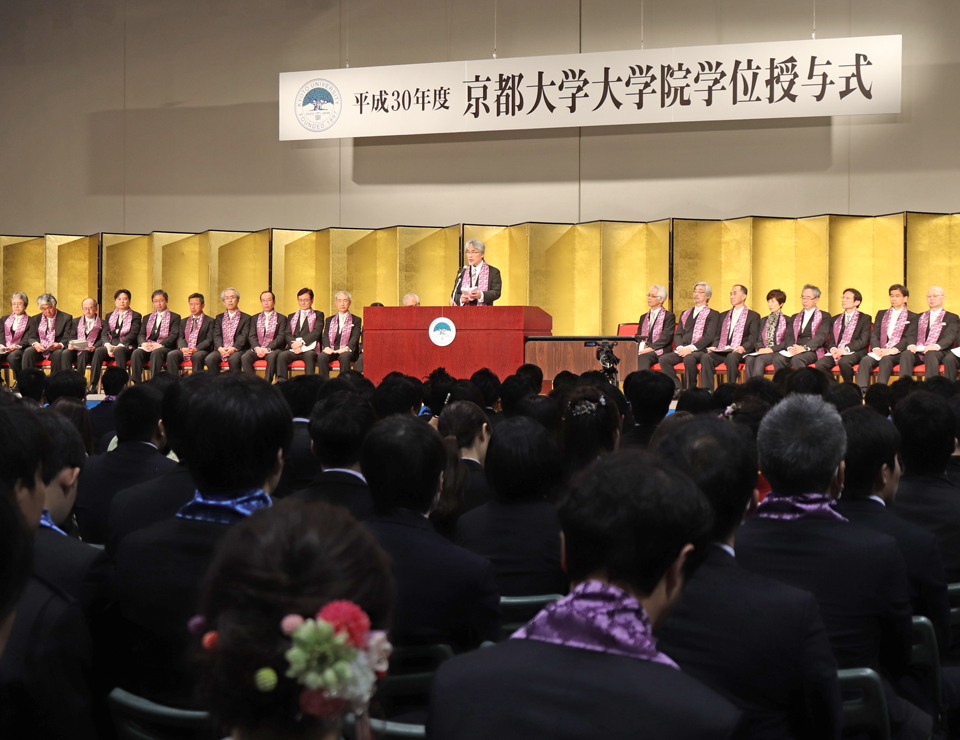 News