Juichi Yamagiwa, 26th President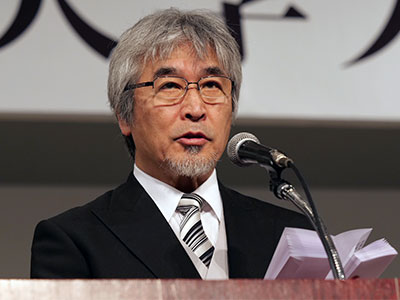 Today, Kyoto University welcomes 2,948 new undergraduate students. On behalf of our guests of honor, former Presidents Makoto Nagao and Hiroshi Matsumoto, along with the Executive Vice-Presidents, Vice-Presidents, Deans, and Directors here today, and all other faculty and staff, I congratulate each and every one of you on your entrance into Kyoto University. I would also like to pay tribute to the tremendous amount of effort you must have made up to this point, and to extend my warmest congratulations to your families and to those around you who have encouraged and supported you in your efforts.
This city, Kyoto, is one of scenic beauty with a history dating back some 1,225 years to the founding of the Heian-kyo imperial capital. Four years ago, Kyoto University hosted a lecture by Professor Donald Keene, the Japanese literature scholar originally from the United States who passed away this past February at the age of 96. In his talk, Professor Keene commented that Kyoto is one of the few cities in the world where the lifestyles of more than a millennium ago are preserved to the present day. He studied Japanese literature at Kyoto for just over one and a half years, beginning in 1953. He lodged in a traditional Japanese-style residence and immersed himself fully in the study of the Japanese classics, pausing not even to read the newspapers, and surviving the winter with only the warmth of a small brazier of hot coals. Professor Keene explained that he attended classes taught by Professor Koshin Noma in the Faculty of Letters, where they read the Bunraku play Love Suicides at Sonezaki , but that his interests eventually expanded beyond classical Japanese literature to encompass contemporary Japanese culture, as he developed friendships with experts such as the educational sociologist Michio Nagai — a KyotoU associate professor who later became the minister of education, science, and culture — and, beyond the University campus, the Kyogen artist Sennojo Shigeyama and the author Jun'ichiro Tanizaki. He recalled how a range of innovative new ideas emerged from these encounters, attributing them in part to Kyoto being the kind of city where lifestyles and townscapes from past eras, such as Heian and Muromachi, remain alive and well.
It is true that Kyoto is home to some 2,500 shrines and temples that continue to lend a venerable presence to all parts of the city, as well as being surrounded on three sides by mountains. Even in the vicinity of our University, the city offers many historical and natural spots that are ideal for walking, including Mt Yoshida and Shinnyodo Temple to the east, Kamo River and the Kyoto Gyoen National Garden to the west, Chion Temple to the north, and Kumano Shrine to the south. At this time of year, many varieties of trees put on new growth, and the mountains are painted with fresh shades of green. Since ancient times, these natural surrounds have inspired poetry, staged all kinds of encounters, and enriched the culture of this beautiful city. I am sure that all of you gathered here today are looking forward to stepping out on to the stage fashioned by this noble history and splendid natural environment, energized by the bright light and fresh breezes of this spring season. Kyoto University welcomes this spirit with open arms, and hopes that you will use your time here to develop the capabilities that you need to go forth on to the world stage.
Since its foundation in 1897, Kyoto University has endeavored to cultivate academic freedom under a spirit of self-reliance and self-respect, and to open new horizons in creative, scholarly endeavors. As one of its key goals, the University has also sought to pursue harmonious coexistence within the human and ecological communities on this planet. Our world is currently experiencing a number of rapid changes that would have been unimaginable in the 20th century. The global conflict structure, which was expected to be resolved with the end of the Cold War, is actually growing in both complexity and intensity as a result of ethnic and religious tensions; the pace of global environmental degradation accelerates, unprecedented major disasters and deadly infectious diseases wreak havoc across the planet; financial markets experience wild fluctuations in the space of seconds, shaking both national economies and individual lives to the very core. In these turbulent times, Kyoto University needs to identify how best to respond to the demands of government and wider society while remaining true to its spirit of self-reliance and self-respect.
In line with its commitment to independent learning, Kyoto University must maintain its position as a bastion of academic freedom, unconstrained by convention. In order to do so, the University must be a place where academic endeavor can proceed undisturbed, while also providing windows into the world and society. Based on this idea of the University as a window, I launched the WINDOW Concept, which positions Kyoto University as a window to society and to the world, one that is to be opened by faculty/staff and students together, with the whole community sharing in the common goal of guiding students gently out into the wider world. WINDOW is also an acronym representing goals for action in the areas of Wild and Wise, International and Innovative, Natural and Noble, Diverse and Dynamic, Original and Optimistic, and Women and the World.
Our campus is not limited to the University's premises in Kyoto. We have research institutes and centers all over Japan, and more than 50 research bases worldwide. You will be able to hone your skills through participation in laboratory and field work at these institutes and bases, as well as through interaction with many different people here in Kyoto, a city proud of its long history and traditions, and eventually grow into free-spirited individuals capable of making your mark on the world stage.
How, then, can you actually pursue free thinking unconstrained by convention? First, it is important to seek to question the common assumptions you may have accumulated in your life thus far. Effective approaches include talking with peers from different parts of Japan and the world, and traveling on your days off to new places to immerse yourself in unfamiliar cultures. It is also important to pay attention to what is actually happening in the world, and think deeply about its contexts and causes.
I spent my time as a KyotoU student in the early 1970s, when Japan was on the cusp of immense change. The country was engulfed in a wave of development due to the remarkable progress of science and technology. At the same time, problems of environmental degradation and pollution-related health hazards were coming to light, and serious concerns were being voiced over the future of modern civilization. I experienced this nebulous sense of unease first-hand as I walked the length and breadth of the Japanese archipelago during university vacation periods.
There is a song called Seikatsu no Gara (Pattern of Life), which was popular in my student days. Sung by the then Kyoto-based folk singer Wataru Takada, it was a major hit with university students. The lyrics were adapted from a poem of the same name, penned in the mid-1920s by Okinawa-born poet Baku Yamanoguchi (or Yamanokuchi) at the age of 21. Yamanoguchi moved from Okinawa to Tokyo in 1922, experienced the Great Kanto Earthquake a year later, and lived in public parks and stayed at the homes of friends after the earthquake left him homeless. The poem goes like this:
" Tired from walking
I crawled into in a crack between the night sky and the earth
buried myself in grass and tried to sleep
anywhere, everywhere I lay down to sleep.
I tried to sleep but
I could not sleep.
These days I can't sleep
spread out on the earth I can't sleep
beneath the night sky I can't sleep
shaken awake I can't sleep.
Such is my pattern of life but
it's suited for summer, right?
I sleep a bit and
once more I'm mocked by the cold breeze
from the autumn
now if I stay a vagrant I can't sleep "
Baku Yamanoguchi published his first compilation of poems, entitled Shiben no Sono (Garden of Speculation), in August 1938, the second year of the Sino-Japanese War. He was a poet who, even in difficult times such as those, continued unconcernedly to voice his views on the state of Japan based on his own lived experience, using language that at first glance appeared lighthearted. I believe that Yamanoguchi's perspective is an absolutely critical one.

I later went on to graduate school and began doing field research, first on Japanese monkeys and later gorillas. I camped out in the forests of Yakushima in Kagoshima Prefecture and in the jungles of the Congo in Africa, spending lengthy periods among the locals. Life in a tent is just as Baku Yamanoguchi and Wataru Takada described it: like crawling into a crack between the night sky and the earth to sleep. I learned that there is something in such places that prompts an innate response in the sensibility of humans, who share a common ancestry with monkeys and gorillas. Embedded in such experiences are important insights into the fundamental questions of what nature means to humans, and what it means to be human in the first place. I am not suggesting that you too embark on a vagrant lifestyle, but I do want to call your attention to the international student-project support program that we have been offering since three years ago, called Omoro Challenge. This program was actually designed based on my own experience. I hope that you will take it upon yourselves to embrace new challenges and grasp opportunities to rethink your outlook on the world.

Last year, Kyoto University researchers won a succession of international awards and prizes. Mathematician Masaki Kashiwara won the Chern Medal and Kyoto Prize, while medical researcher Tasuku Honjo was awarded the Nobel Prize in Physiology or Medicine. Kyoto University is home to these and many other researchers working at the cutting edge of global research, including Nobel Laureate Shinya Yamanaka, Lasker Award winner Kazutoshi Mori, and Fields Medalist Shigefumi Mori. The presence of such researchers is a tangible symbol of the present-day significance of the KyotoU traditions of questioning accepted wisdom, thinking independently, and honing creativity through free-wheeling dialogue.

On the other hand, of course, the mentality of students varies greatly with the spirit of the age and the tide of world affairs. Professor Shin'ichiro Tomonaga, a 1965 Nobel laureate in physics, wrote about the student mentality of the 1960s, comparing it to his own student days at Kyoto more than 30 years earlier. Student debates in those former times were fought on oratory skills, with debaters using fine rhetorical flourishes as they sought to set the world to rights. Tomonaga was fascinated by the way that the students of the 1960s, in contrast, gave speeches full of wit and humor. He was also surprised to see that students of the 1960s had a musical ear and even composed music for themselves, while many of the previous generation were tone deaf. His conclusion, however, was that regardless of the era, there are always students who astonish their professors with their eagerness to learn, and others who dumbfound their professors with laziness. This, he said, is an immutable law of human nature.

Contradictory tendencies can exist even within the same individual during youth — and surely it is through resolving these conflicts that young people grow — so it is natural for different students to have different ways of thinking. While the vast majority of students lead a more or less mediocre existence, experiencing only average measures of delight, anguish, and passion in their academic lives, Professor Tomonaga pointed out that remarkable figures often emerge from among such seemingly ordinary individuals. I believe that Kyoto University's broad acceptance of diverse student attitudes and relative lack of preoccupation with short-term educational outcomes is what has allowed world-changing, Nobel Prize-winning discoveries to be made here. This remains true to the present day.

There is another poem that I would like to share with you today. This one is by Kenji Miyazawa, who lived in the same era as Baku Yamanoguchi, and is directed to students. This poem, Seito Shokun ni Yoseru (To My Students), included in the collection Haru to Shura (Spring and Asura), begins as follows:

' My students,
do you not feel this clear fresh breeze
that blows briskly in
from your future?
Like a ray of light sent to you,
a predetermined wind from the south '
The poem then continues:
' The universe is forever changing at our hands
Who is what compared to whom,
or what one's work may mean:
there is no time to dwell on such things
My new poets,
draw your lucid energy
from the clouds, from the light, from the storm
and show to people and the world how things should be '
The concluding lines are:
' According to statistics
at least one thousand of you must have genius
You have aptitude and simply need to carve it out
The tide, the storm . . .
do not simply harness the power of nature but go one step further
and try to give shape to new forms of nature
Oh my students, now
do you not feel this fresh breeze
that blows briskly in from your future? '
These words express Miyazawa's fervent wish to entrust the future to the fresh energy of youth. I commend the spirit of this poem to you today.
Unlike the era in which Kenji Miyazawa lived, ours is characterized by the great wave of globalization surging around all of us, even universities. Your career opportunities span the entire globe, well beyond Japan's national borders, while the global community is faced with a great number of problems to be solved in order to achieve harmonious coexistence.
Poor in natural resources, Japan has used advanced science and technology to develop devices that enrich people's lives, and launched them out one after another into the wider world. There has been a dramatic increase in recent years in both the number of Japanese companies establishing international operations and that of Japanese nationals working overseas, while the number of non-Japanese people employed by Japanese companies or in Japan is also soaring. The day will soon come when you too will be working in this changing environment.
What this means is that you will need to be equipped with a wide-ranging education and be thoroughly conversant with the nature and cultures not only of Japan but of many other countries as well, so that you can respond effortlessly to whatever your interlocutors may say. You will also need the audacity to question accepted wisdom and search for genuine truths. Even if you have training in the sciences and are employed in some engineering profession, you should have knowledge in the humanities and social sciences to be truly effective in international negotiations, and the reverse will also be true — knowledge of science and technology is just as necessary for those who have professions in the humanities. Unless you are conversant in both national and world history, and have a good level of knowledge truly worthy of being called a public intellectual, you will be unable to exercise effective leadership on the world stage.
With the help of all its faculty, Kyoto University has been working to build a practical and high-quality liberal arts and general education system. Taking into account the sheer diversity of the academic fields covered and the necessity for structured learning, we have designed class-designated courses and course trees, along with small-group seminars focused on dialogue with instructors and practical classwork. At the same time, we have significantly increased the number of non-Japanese faculty members over the past few years, and now offer more undergraduate lectures and workshop classes in English. We also operate five Leading Graduate School Programs, offering doctoral degrees and training in internationally applicable skills, and last year launched a Doctoral Program for World-leading Innovative & Smart Education. We have also recently opened the Kyoto University Institute for Advanced Study (KUIAS) as a hub for cutting-edge academic endeavor and to extend our scholarly networks across the globe. Moreover, we operate the SPEC program, SPEC standing for "Student Projects for Enhancing Creativity", to cultivate an entrepreneurial mindset among students, as well as a wide range of international programs including the Omoro Challenge, which I mentioned earlier. We hope that through dialogue with the many people they meet as part of their unique overseas learning experiences, students taking part in these programs will cultivate the creative capacity to contribute to the wider world.
In the meantime, in order to help enhance Kyoto University's education and research activities while allowing our students to lead a secure and fulfilling life, we have established the Kyoto University Fund. The families who are here today have been given leaflets explaining the Fund as well as details of a special plan put together in celebration of this occasion. I would be grateful if you could all take the time to read through the material provided and for any support you feel moved to provide.

I hope with all my heart that here at Kyoto University, the ideal environment for dialogue, you will cultivate bonds with many fellow students, and be able to immerse yourselves and take pleasure in the world of the unknown.

Once again, I offer my sincere congratulations to each and every one of you today.

(Text in "double quotation marks" is an English translation of material taken from Yamanoguchi Baku Shishu , Iwanami Shoten, 2016.)
(Text in 'single quotation marks' is an English translation of material taken from Miyazawa Kenji Shishu , Iwanami Shoten, 1950.)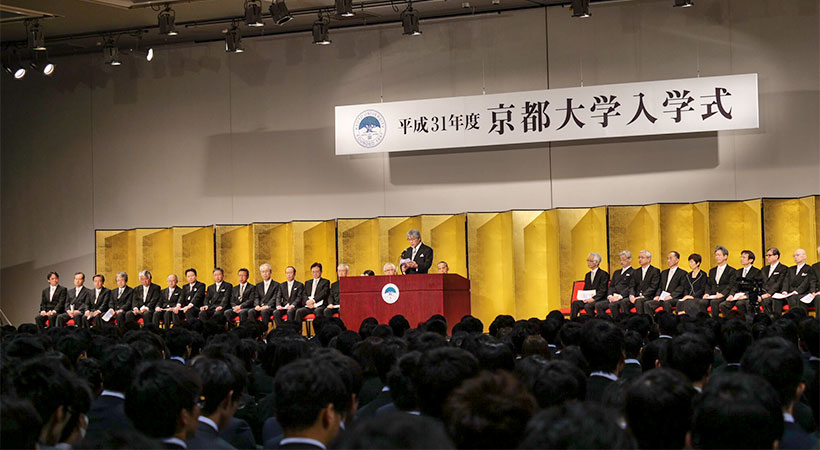 News