Requirements for selection as a Designated National University (DNU)
Based on analyses of human and other resources, and including an assessment of evolving socio-economic circumstances, each DNU must establish a concrete strategy under the program, including time-frames and methods of implementation. Designated institutions are expected to spearhead the reform of Japan's national universities, sharing results, best practices, and outcomes with impact on the development of society and the economy.
Six DNU focal areas
Each DNU must focus its strategies and objectives on the following six areas:
Recruitment and development of human capital
Strengthening research capabilities
Boosting international cooperation and collaboration
Collaboration with society
Strengthening governance
Strengthening the university's financial base
KyotoU's overall DNU concept
Kyoto University's DNU concept melds the foregoing six focal areas with its own unique traditions, seeking to establish innovative forms of university management, and enhancing the University's contributions to addressing grand challenges facing humanity.
Promote world-leading research by establishing centers to advance the development of innovative research by top scholars in diverse fields.
Establish locally-managed, "On-site Laboratories" in cooperation with overseas partner institutions to promote exchanges in education, industry-academia collaboration, and student, staff, and faculty development built on a foundation of robust research collaboration.
Enhance international flows of knowledge and human capital in an environment of diversity and openness.
Consolidate the University's creative and cutting-edge achievements in order to drive innovation and boldly investigate contemporary global issues.
Swiftly and comprehensively implement effective institutional governance while respecting the autonomy and diversity of the University's departments and centers.
Enhance university-led for-profit ventures to strengthen corporate governance, promote the utilization of research outcomes and intellectual property, and maximize returns to society.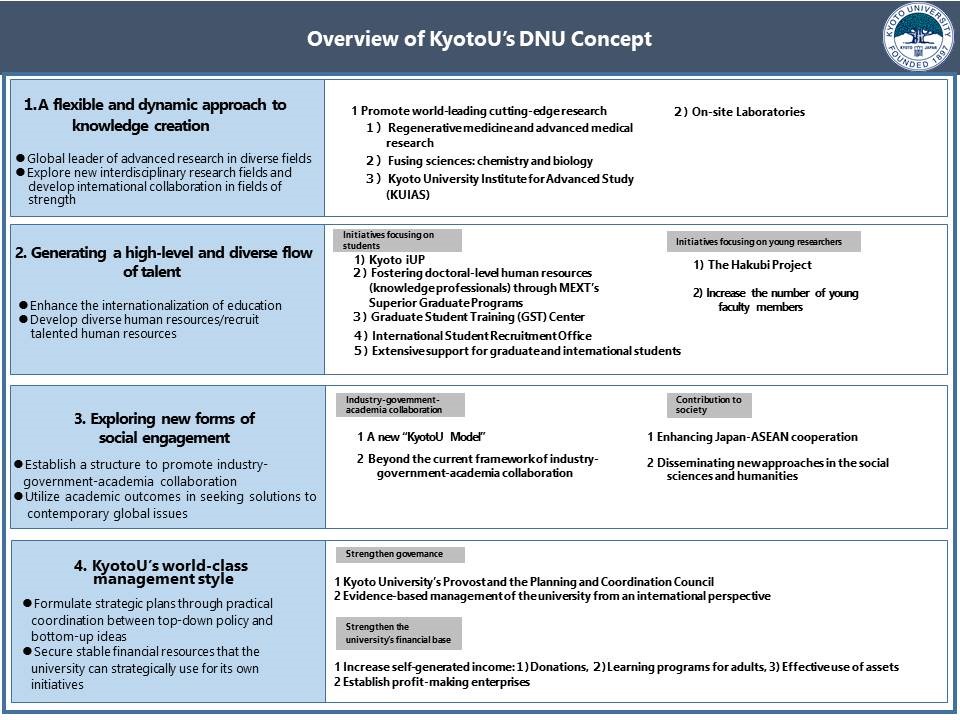 A flexible and dynamic approach to knowledge creation
1. Promote world-leading, cutting-edge research
2. On-site Laboratories
Generating a high-level and diverse flow of talent
Initiatives focusing on students
1. Kyoto University International Undergraduate Program (Kyoto iUP)
Fostering doctoral-level human resources (knowledge professionals) through MEXT's Superior Graduate Programs
Initiatives focusing on young researchers
The Hakubi Project
Exploring new forms of social engagement
Industry-government-academia collaboration
1. A new "KyotoU Model"
Contributions to society
Disseminating new approaches in the social sciences and humanities