A philosophical examination of financial services reassessing individual self-worth
Kyoto, Japan -- It's that same classical question, "What defines happiness?" Some people approach this from a relatively practical viewpoint while others take a metaphysical approach. For example, in quotidian discussion, money and philosophy generally tend to clash as opposite values.
Now, a team consisting of researchers and a financial expert has published a white paper proposing a joint industry-academia research project, the aim of which is to redefine happiness in terms of a new quantitative measure.
Yasuo Deguchi and Takuro Onishi of Kyoto University's Department of  Philosophy, whose mission is to propose values as their core philosophy, have been actively engaged in research and communication activities. Deguchi's series of lectures on the theme "Self as We", featured in the online "Let Us Rethink Radically" public lecture series, inspired Tomoyoshi Hirose of Money Design, Inc to approach Deguchi and Onishi about jointly conducting research on redefining happiness.
The team's future task is to refine the contrast between "I/Me-type happiness" and "We/Us-type happiness" proposed in the Life Integrator Scale into a more rigorous concept.
"This joint research project promises to re-strengthen philosophy in its ability to propose bold new values in this increasingly chaotic 21st century," says Yasuo Deguchi.
"We believe that life and asset building are two sides of the same coin," proposes Tomoyoshi Hirose, whose Money Design, Inc's vision is to facilitate every individual's money-enhanced living.
"The encouraging results of this research have helped me exercise my skills as a philosophy researcher and reach out to other experts not only in the humanities but also in business," comments Takuro Onishi.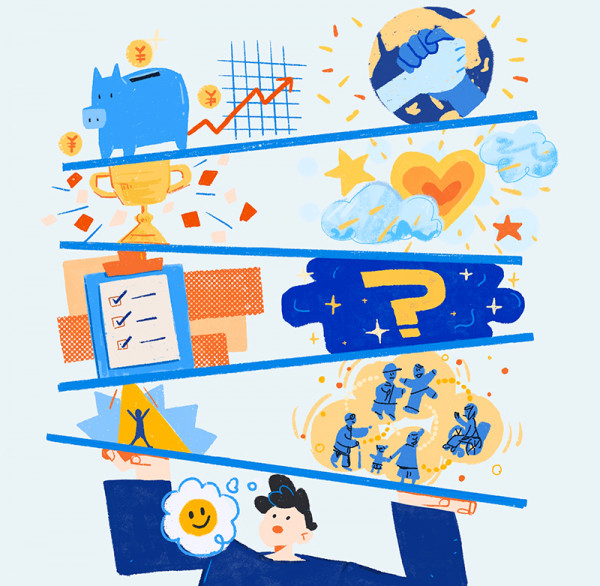 Related departments & centers