The 1st Joint Symposium of Kyoto University's Three North American On-site Labs, subtitled "Transformative Innovations in Medical and Life Sciences", was held in San Diego, USA, on 28 February 2023.
Kyoto University has established eleven on-site laboratories in collaboration with overseas partners. The three North American-based laboratories (Kyoto University Research Center San Diego [KURC-SD], iPS Cell Research Center at Gladstone Institutes, and Quantum Nano Medicine Research Center) held the joint symposium in collaboration with the University's International Strategy Office. The venue for the symposium was the Sanford Consortium for Regenerative Medicine on the campus of the University of California San Diego (UCSD), which is the location of the KURC-SD. The symposium aimed to share the outcomes of outstanding cutting-edge research in the field of medical and life sciences and contribute to the creation of innovation.
The symposium was conducted in a hybrid format (on-site and online), and attracted over 700 participants, comprising 210 on-site and 526 online. The participants included researchers, students, government officials, company representatives, and Kyoto University alumni from over ten countries and regions, including the USA, Japan, Brazil, Italy, New Zealand, Singapore, Thailand, India, China, Taiwan, Ethiopia, Egypt, and Palestine.
The symposium provided a platform for researchers from Japan and the USA to present their recent research in three sessions, under the themes of "Stem cells and cell reprogramming", "Quantum science, nanomedicine, and radiation therapy", and "Cancer immunotherapy".
The symposium opened with an address by Kyoto University President Nagahiro Minato and welcome remarks by Dr Corinne Peek-Asa (vice chancellor for research, UCSD). Dr Shinya Yamanaka (director emeritus and professor, Center for iPS Cell Research and Application [CiRA], Kyoto University), delivered the opening keynote speech titled "Recent Progress in iPSC Research and Application".
Presentations focusing on the themes of each session were then delivered by Dr Juan Carlos Izpisua Belmonte (director, San Diego Institute of Science, Altos Labs), Dr Jun Takahashi (director and professor, CiRA, Kyoto University), Dr Toshiki Tajima (Norman Rostoker chair professor, University of California, Irvine), Dr Jun Suzuki (professor, Institute for Integrated Cell-Material Sciences [iCeMS], Kyoto University Institute for Advanced Study [KUIAS]), President Nagahiro Minato, and Dr Mitchell Kronenberg (chief scientific officer, La Jolla Institute for Immunology).
Following the presentations, Dr Mitinori Saitou (director and professor, Institute for the Advanced Study of Human Biology [ASHBi], KUIAS) gave the closing keynote speech, titled "From in vitro gametogenesis to human biology".
A question-and-answer session was held after each lecture, during which participating students and researchers enthusiastically asked questions and expressed their expectations for future research in the field of life and medical sciences, leading to lively discussions that transcended the research-field boundaries.
The symposium was then closed with remarks by Dr John M Carethers (vice chancellor for health sciences, UCSD).
After the symposium, a reception and networking event was held, enabling participants to deepen their friendships and discuss further research collaboration while enjoying the beautiful sunset of La Jolla, San Diego.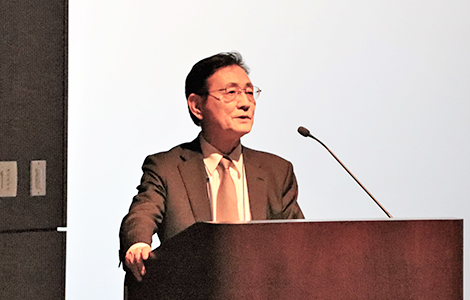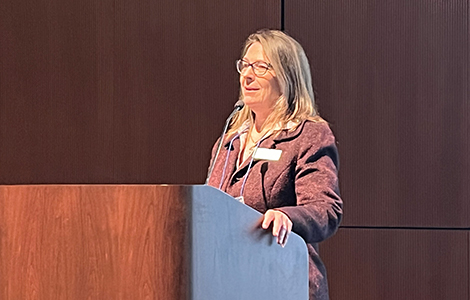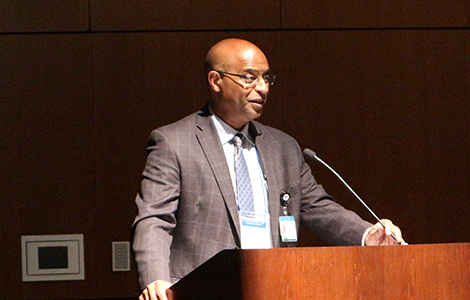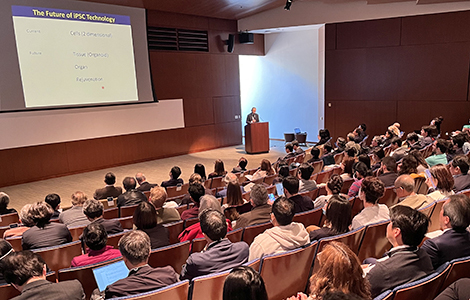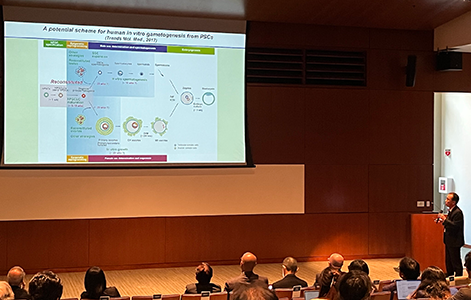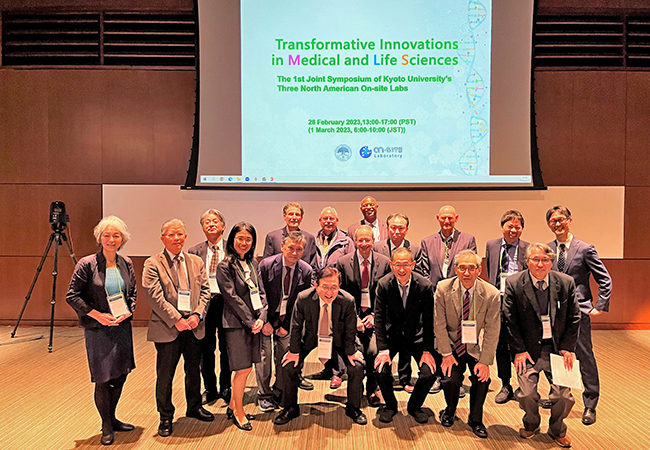 Related departments & centers