On 30 November, the Graduate School of Global Environmental Studies (GSGES) hosted a private online meeting between Kyoto University and Mahidol University, Thailand. The session took place ahead of the Kyoto University ONLINE Symposium 2020, organized by the two universities and scheduled for later in the day and for 1 December.
Attending the meeting from KyotoU were ten officials, including: Professor Nagahiro Minato, president; Professor Takao Hirajima, executive vice-president for education, information infrastructure, and library services; Professor Takeshi Katsumi, dean of GSGES; Professor Shigeki Sawayama, dean of the Graduate School of Agriculture; Professor Masahiro Ohshima, dean of the Graduate School of Engineering; and Professor Masayoshi Shigeta, dean of the Graduate School of Asian and African Area Studies (ASAFAS). They were joined by eleven representatives from Mahidol University, including: Professor Banchong Mahaisavariya, president; Associate Professor Nopraenue Sajjarax Dhirathiti, vice president for international relations and corporate social communication; Assocociate Professor Jackrit Suthakorn, dean of the Faculty of Engineering; Assistant Professor Nawatch Surinkul, chair of the Civil and Environmental Engineering Department, Faculty of Engineering; and Associate Professor Suwanna Kitpati Boontanon, director of the master's program.
The session began with Vice-President Dhirathiti introducing the attendees from Mahidol University, followed by President Mahaisavariya, who offered a brief overview of the Thai institution and expressed his gratitude to the staff from both universities involved in the organization of the symposium and the "On-site Laboratory" workshop, which had taken place a day earlier. GSGES Professor Shigeo Fujii, leader of the On-site Laboratory initiative, next introduced the KyotoU officials, before President Minato outlined the current situation at the University, including the effects of the pandemic on research and education. Attendees from both sides then proceeded to discuss future collaborations between the two universities.
GSGES opened a Partnership Office at Mahidol University in January 2016 with the aim of expanding research and education collaboration between the two institutions, which now exchange faculty through a cross-appointment system, present joint lectures via an online conference system, host students from each other under double-degree and special audit programs, and provide support to early-career researchers through a Seeds Fund Program. In addition, GSGES established in 2018 an on-site laboratory at the Thai university to further enhance research collaboration, accelerate faculty exchange, and actively recruit talented students.
The meeting included intensive reviews of these and other collaborative activities, and concluded with a virtual group photo.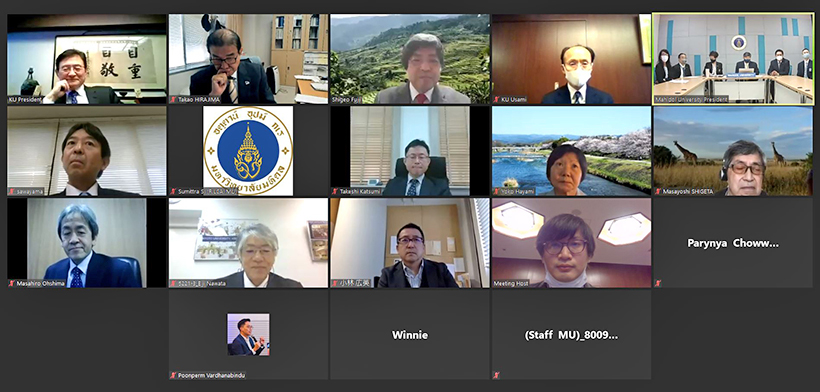 Related departments & centers