From 30 July to 10 August, the Institute for Liberal Arts and Sciences (ILAS) implemented the "2018 Kyoto Summer Program for East Asia and Germany Students with KU Students", with 25 selected students taking part from five overseas institutions: Peking University, the Chinese University of Hong Kong, National Taiwan University, Yonsei University, and Heidelberg University. The short-term study-abroad program was organized in cooperation with the Asian Studies Unit, and with support from Kyoto University provided under the Wild & Wise Collaborative Learning Program. The Kyoto Summer Program was originally launched in 2012 for Peking University students, but was expanded in 2016 to include participants from three other East Asian institutions. This year marked the first time that it welcomed German students as well.
The curriculum is primarily aimed at developing understanding of the political, cultural, historical, social, and ecological issues facing Japan. It is also designed to highlight Kyoto University's unique academic climate and cutting-edge research facilities, so as to encourage an interest in studying here for an extended period of time.
Eighteen Japanese KyotoU students, selected from a large pool of candidates, joined the program to serve as "supporters", promoting intercultural exchange through joint participation in lectures and off-campus activities. They even planned some of the activities to hone their planning and management skills.
The curriculum featured four levels of Japanese language classes, as well as a wide range of lectures delivered in English by prominent faculty: "Mutual Support: Evolution of Human Mind Viewed from the Study of Chimpanzees" by Distinguished Professor Tetsuro Matsuzawa of the Kyoto University Institute for Advanced Study (KUIAS); "The Aesthetics and Sensitivities of the Japanese as Seen Through Classical Japanese Literature" by ILAS Associate Professor Shikiko Yukawa; "Innovative Technologies for 9 Billion People's Food Production and Environmental Conservation" by Professor Naoshi Kondo of the Graduate School of Agriculture; and "High Economic Growth and Minamata Disease: The Fight for Certificates Officially Acknowledging Victims of Methylmercury Poisoning" by Program-Specific Assistant Professor Reiko Iida of the Graduate School of Asian and African Area Studies (ASAFAS).
There were also off-campus activities designed to deepen understanding of Japanese and Kyoto cultures from multiple perspectives, including visits to:
Kyoto Mayor's office, where the program opened,

Nabel Co, Ltd, a leading domestic manufacturer of egg packers, and Panasonic Museum, both home to state-of-the-art industrial technologies,

Kurama Temple and Kibune Shrine, two of Kyoto's best-known cultural landmarks, and

Lake Biwa Museum and the University of Shiga Prefecture (USP), where as part of a one-day field trip USP Associate Professor Naoshige Goto delivered a lecture on the "Environment of Lake Biwa: Formation of Large-Scale Oxygen-Deficient Waters", and led microscope observations and a lake shore stroll.
The two-week program concluded with final-day presentations by the participants.
The organizers hope to continue offering this and similar programs for years to come to foster intercultural exchange and mutual understanding among future leaders.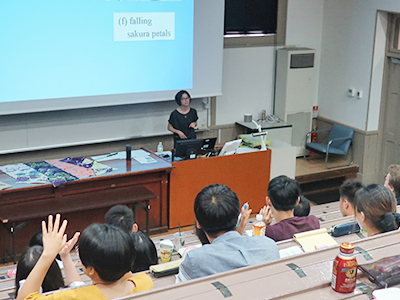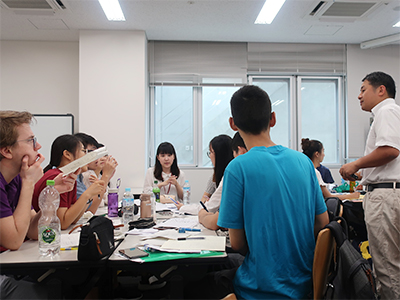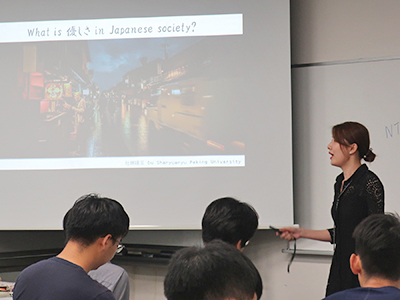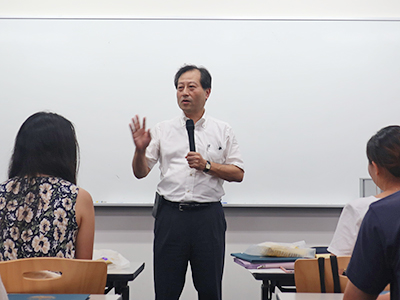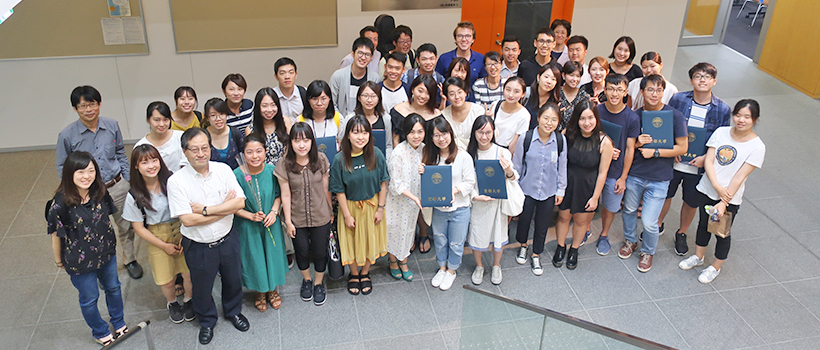 Related link
Related departments & centers