From 21 February through 6 March, the Graduate School of Global Environmental Studies (GSGES) enrolled 10 undergraduate students from five universities in three countries in its "Livelihood, Environment and Peace – Studying in Kyoto and Lake Biwa" Wild & Wise Collaborative Learning Program. Eight GSGES faculty delivered special lectures, and 13 KyotoU students — 11 undergraduate and two graduate — joined the international participants in fieldtrips and other activities.
The fieldtrips featured a rural community that utilized spring water and practiced a low-impact lifestyle, as well as an organic farming company, highlighting efforts to achieve harmony with nature. Other destinations included water-supply and sewage-treatment plants, and an environmentally friendly on-site runoff water-treatment facility, where advanced water-treatment technologies were on display.
The program also presented cultural activities, such as kimono-dressing and calligraphy, the former with support from Sense Kyoto, and the latter from another KyotoU student group. Participants enjoyed the opportunities to experience cross-cultural communication as well as the spirit of wa (harmony, peace, or Japan) and quietude of mind. They also experienced making Japanese dishes, such as mochi (rice cake), sushi rolls, and kamaboko (fish cake), learning about the country's food culture while interacting with local people.
Joined by Japanese students who trained in Vietnam last summer, participants had numerous opportunities to explore environmental issues from different cultural perspectives. These experiences are hoped to contribute to the development of global leadership skills in all who took part in the program.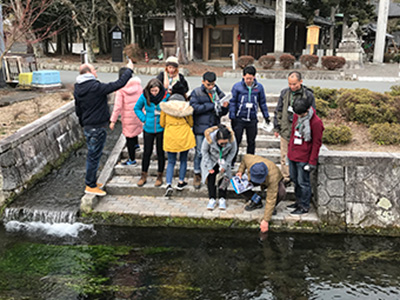 Touring a town surrounded by nature and that utilizes spring water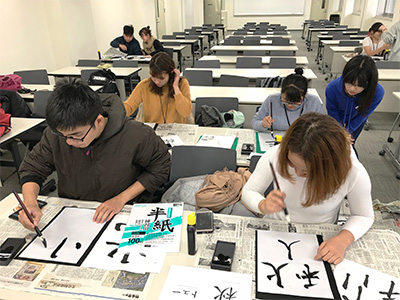 Experiencing Japanese calligraphy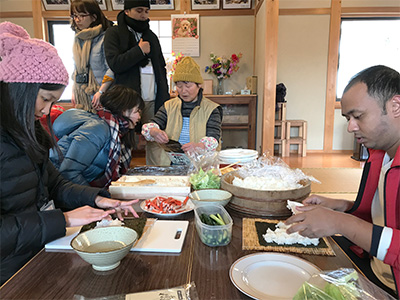 Making sushi rolls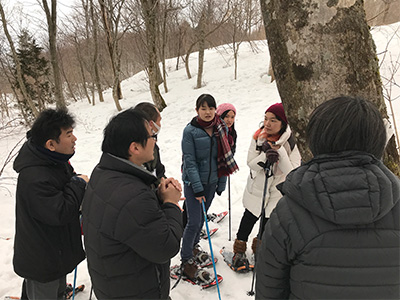 Observing a maple tree on a snowy mountain
Related link
Related departments & centers