The 2017 Kyoto Summer Program for East Asia Students with KU Students, a short-term study-abroad program hosted by Kyoto University's Institute for Liberal Arts and Sciences (ILAS), took place from 30 July through 12 August with 26 selected students participating. These included undergraduate and master's students from diverse academic backgrounds from Peking University, the Chinese University of Hong Kong, National Taiwan University, and Yonsei University in South Korea. The program was organized by ILAS in collaboration with the Kyoto University Asian Studies Unit (KUASU), and with support from the University provided under the Wild & Wise Collaborative Learning Program. It included cultural tours and activities organized by the Kyoto Prefecture International Center and the Nantan International Association.
The Kyoto Summer Program invites outstanding students from leading East Asian universities to experience Kyoto University's unique academic climate and cutting-edge research environment, and to learn about numerous aspects of the host country, including politics, history, culture, and ecology. It also aims to stimulate interest among the participants in studying in Japan for longer periods, and in eventually working for regional peace and stability.
The 2017 Program included 26 Japanese KU student supporters selected by interview from a large number of applicants. These students assisted the participants from East Asia with their studies by attending the lectures together, and joining them in extracurricular activities to engage in cross-cultural communication. The supporters also took part in program preparations, honing their planning and management skills in the process.
The lectures addressed a range of topics, including: "Asian Advanced Agricultural Technologies (AAA Tech) for 9 Billion People's Food Production and Environmental Conservation" (Professor Naoshi Kondo of the Graduate School of Agriculture), "The Aesthetics and Sensitivities of the Japanese as Seen Through Classical Japanese Literature" (Associate Professor Shikiko Yukawa of ILAS), "What Does it Mean to 'Study Japan'?: Past, Present, and Future" (Associate Professor Niels van Steenpaal of the Graduate School of Education), and "Democracy: Desirable, but Disappointing and in Danger" (Associate Professor Ken Victor Leonard Hijino of the Graduate School of Law).
The second half of the program featured fieldtrips designed to help broaden the students' understanding of Japan and Kyoto. The Kyoto Prefecture destinations included high-tech firm Kyocera Corporation, the traditional Nagaeke machiya (townhouse), as well as notable sites in the Nantan region, such as Tamba Winery's production facility, Hiyoshi Dam, Nantan City Hiyoshicho Local Museum, and a farm in Kihata.
Unfortunately, some lectures and activities had to be cancelled because of a typhoon, but the participants were able to complete the program on schedule, delivering their final presentations and attending the closing ceremony before leaving Kyoto for their home countries.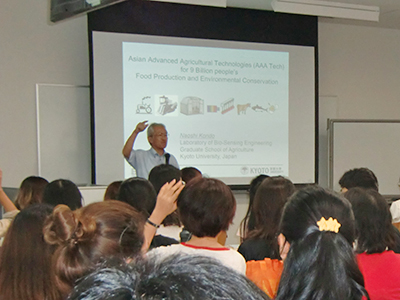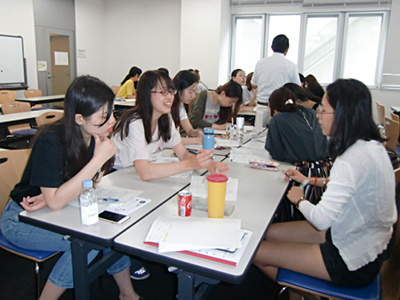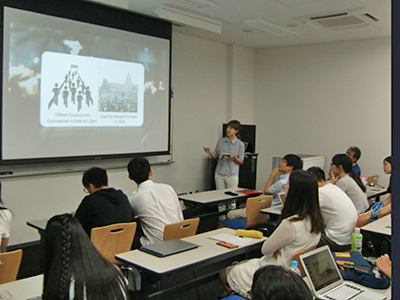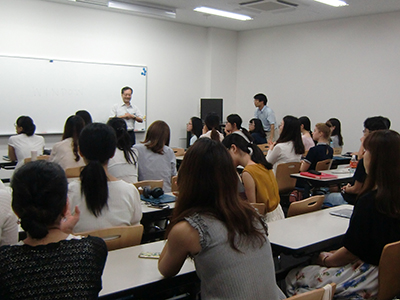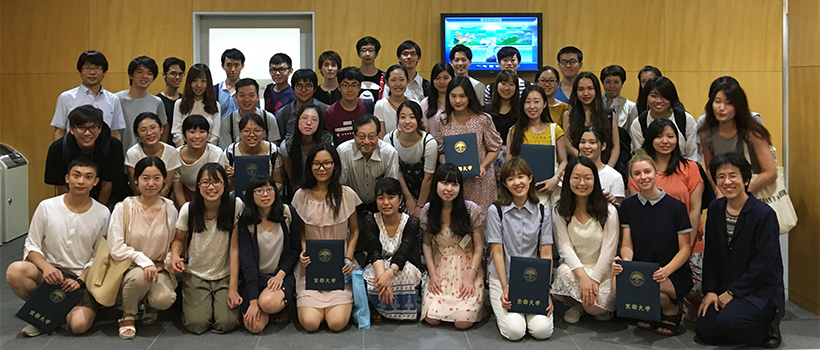 Related link
Related departments & centers