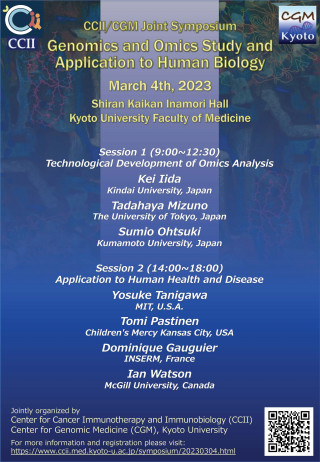 Registration required
Registration required
This international symposium is jointly organized by the Center for Cancer Immunotherapy and Immunobiology (CCII) and the Center for Genomic Medicine (CGM), Graduate School of Medicine, Kyoto University.
World-leading scientists in genomics and omics studies will present the latest topics ranging from the causal gene identification in monogenic diseases to the technical development of omics analysis and its application to human disease studies.
Basic info
Venue
Audience
Current Students & Staff
Corporations & Researchers
Max attendees
On-site: 200
On-line: 500
Registrations will be accepted on a first-come, first-served basis.
Registration
Procedure
Advance registration is required. Please register here 

.
Deadline
Contact info
Symposium Secretariat
Email: 060event-ccii*mail2.adm.kyoto-u.ac.jp (replace * with @)
Related departments & centers