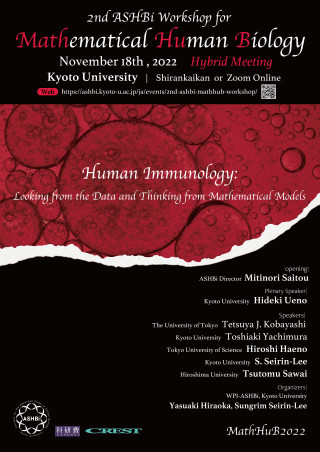 時間
09:30–20:30 JST
16:30-24:00 PST
Registration required
Registration required
The Institute for the Advanced Study of Human Biology is pleased to announce the 2nd ASHBi Workshop for Mathematical Human Biology on Friday 18 November 2022 with an aim to explore and develop a new framework for mathematical research in human biology.
All those interested are welcome to attend.
Basic info
Venue
Hybrid meeting (Kyoto University Shiran Kaikan [building 21 on this map]/online via Zoom)
For online participants:
High-speed LAN/WiFi environment advised for stability
Update the software to the latest version
Audience
Current Students & Staff
Corporations & Researchers
Academic researchers and students
Max attendees
100 for on-site participation
(Registration will close when capacity is reached.)
Cost
Free of charge
(1,000 yen for the networking/discussion session with a conference dinner)
Details
Schedule
Opening remarks
9:30-9:40
Mitinori Saitou, ASHBi Director, Kyoto University
Plenary session
9:40-10:30
Hideki Ueno, Kyoto University
"Human Immunology"
10:30-10:40
Q&A
10:40-10:50
Break
Session A: Immunology and Data
10:50-11:30
Tetsuya J Kobayashi, The University of Tokyo
"Quantitative biology for T cell biology: From Development to Repertoire"
11:30-11:40
Q&A
11:40-12:20
Toshiaki Yachimura, Kyoto University
"A new reconstruction of Waddington's landscape via optimal transport theory"
12:20-12:30
Q&A
12:30-14:00
Break
Session B: Immunology and Model
14:00-14:40
Hiroshi Haeno, Tokyo University of Science
"Mathematical modeling of immune evasion in colon cancer"
14:40-14:50
Q&A
14:50-15:30
S Seirin-Lee, Kyoto Univeristy
"Multidisciplinary approach to reveal autoimmune skin diseases by eruption shapes"
15:30-15:40
Q&A
15:40-16:00
Break
Session C: Ethics and Mathematical Science
16:00-16:40
Tsutomu Sawai, Hiroshima University
"Ethics in Mathematics"
16:40-17:00
Q&A/discussion
Networking (on-site only)
18:00-20:30
Networking and discussion
20:30
Closing
For more details, visit:
The 2nd ASHBi workshop for Mathematical Human Biology: Human Immunology -- Looking from the Data and Thinking from Mathematical Models
Language
English, with no interpretation provided
Registration
Procedure
Register via:
2nd ASHBi Workshop for Mathematical Human Biology (Google Form)
Registered participants will receive a Zoom link approximately one week before the workshop.
NOTE:
The networking session may be cancelled due to Covid-19.
IMPORTANT:
Participants must agree not to disclose to third parties any confidential information presented during the workshop, including unpublished data.
Deadline
(Sunday 16 October 2022 for the networking session)
Contact info
Institute for the Advanced Study of Human Biology (WPI-ASHBi)
ashbi-info*mail2.adm.kyoto-u.ac.jp (replace * with @)
Related departments & centers