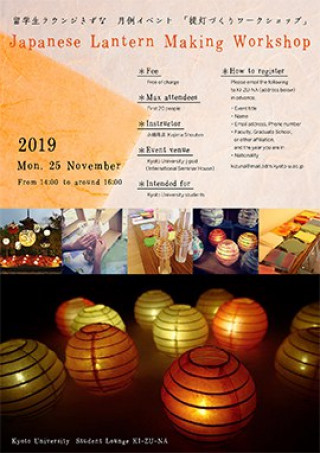 時間
From 14:00 to around 16:00
Registration required
Registration required
KIZUNA's November event is a Japanese lantern-making workshop, taught by craftsmen from Kojima Shouten Inc (link below), which has continuously manufactured lanterns using traditional techniques for over 230 years.
Kyoto-style paper lanterns are made using a unique method called jibari-shiki. Participants will learn the history of, and the steps involved in, this crafting process, and create small lanterns to take home, along with an electric lamp, as souvenirs.
This will be a great opportunity to experience a Japanese traditional handicraft and make new friends. KIZUNA looks forward to your participation.
Basic info
Audience
Kyoto University students
Max attendees
First 20 people
Registration
Procedure
Please email the following to KIZUNA (address below) in advance:
Event title
Name
Email address
Phone number
Faculty, Graduate School, or other affiliation, and the year you are in
Nationality
Deadline
Registration will close when capacity is reached
Contact info
Student Lounge KIZUNA
Email: kizuna*mail.adm.kyoto-u.ac.jp (replace * with @)