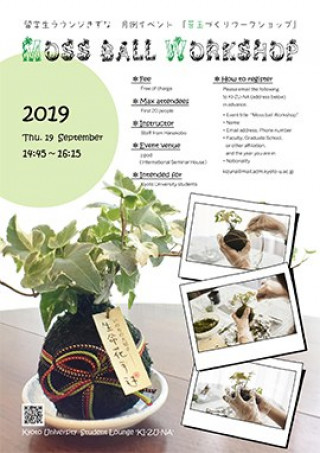 時間
From 14:45 to around 16:15
Registration required
Registration required
The September KIZUNA event is a Moss Ball Workshop, taught by staff from Hanakobo, a flower-arrangement service provider and flower retailer.

A moss ball, or kokedama, is a small, spherical piece of moss-covered soil on which an ornamental plant may be grown. The art of moss-ball making draws on techniques of bonsai and tray landscaping to create a striking display.

Event participants will work with soil and plants to make their own moss balls. This will be a great opportunity to experience a traditional Japanese gardening art and make new friends.

KIZUNA looks forward to your participation.
Basic info
Audience
Kyoto University students
Max attendees
First 20 people
Registration
Procedure
Please email the following to KIZUNA (address below) in advance:
Event title
Name
Email address
Phone number
Faculty, Graduate School, or other affiliation, and the year you are in
Nationality
Deadline
Registration will close when capacity is reached
Contact info
Student Lounge KIZUNA
Email: kizuna*mail.adm.kyoto-u.ac.jp (replace * with @)