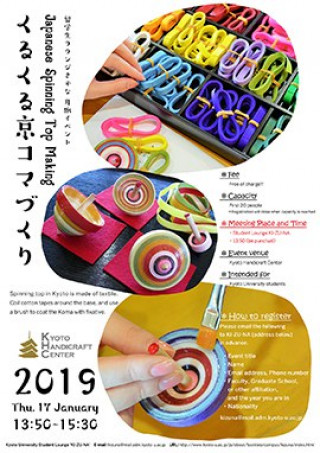 時間
From 13:50 to around 15:30
Meeting time is 13:50 (be punctual)
Registration required
Registration required
KIZUNA's January event is a Japanese spinning top making workshop at the Kyoto Handicraft Center, located within walking distance of Kyoto University's main campus.
Traditional tops, or koma, are popular children's toys, typically played with during the New Year's holiday season. They are also considered to be good-luck charms.
In the upcoming workshop, participants will work on a Kyoto-style koma, which is made of colorful cotton threads. The process involves winding threads around a rod, and coating them with a fixative using a brush. The finished tops can be taken home as souvenirs.
This will be a great opportunity to experience the Japanese traditional craft and make new friends. KIZUNA looks forward to your participation.
Basic info
Audience
Kyoto University students
Max attendees
First 20 people
Registration
Procedure
Please send an email with the following details to KIZUNA (address below) in advance:
Event title
Name
Email address
Phone number
Faculty, Graduate School, or other affiliation
Nationality
Deadline
Registration will close when capacity is reached
Contact info
Student Lounge KIZUNA
Email: kizuna*mail.adm.kyoto-u.ac.jp (replace * with @)