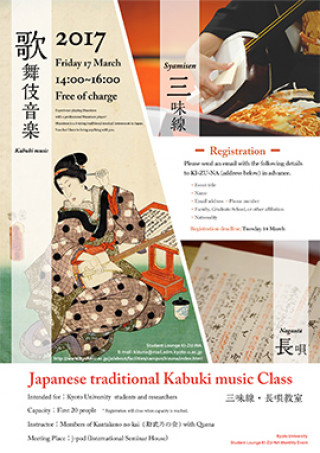 時間
From 14:00 to around 16:00
Registration required
Registration required
The March KIZUNA event is a kabuki music class taught by professional shamisen instructors from Kantakeno no Kai, which offers lessons at the Kyoto International Community House and other locations. KIZUNA presented a similar event last October with great success.
The shamisen is a three-stringed musical instrument used in kabuki and other forms of Japanese traditional music. Participants will first listen to a kabuki music performance (Nagauta) and then practice the shamisen under professional guidance. The goal is to master a simple song.
The class will be beginner-friendly with all necessary implements, including shamisen and plectra, provided at the venue.
This will be a great opportunity to experience a Japanese traditional performing art and make new friends. KIZUNA looks forward to your participation.
Basic info
Audience
Kyoto University students and researchers
Max attendees
First 20 people
Registration
Procedure
Please send an email with the following details to KIZUNA (address below) in advance.
Event title
Name
Email address
Phone number
Faculty, Graduate School, or other affiliation
Nationality
Deadline
Tuesday 14 March 2017
Registration will close when capacity is reached
Contact info
Student Lounge KIZUNA
Email: kizuna*mail.adm.kyoto-u.ac.jp (Please replace * with @)