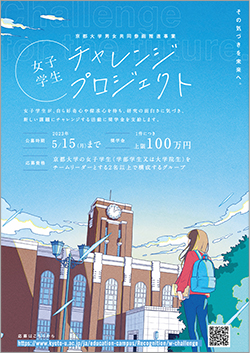 As part of its efforts to promote diversity and inclusion, Kyoto University aims to create a university environment in which female students can fully demonstrate leadership and initiative in research activities.
The Women Scholar Challenge Project aims to encourage female students to build on their own curiosity and spirit of inquiry to explore the enjoyment of research and take on new challenges through interacting and collaborating with people who have diverse perspectives different from their own. Kyoto University supports students with such a challenging spirit.
Application guidelines and form
Eligibility requirements
The applicant must be the team leader of a research group consisting of two or more members, and must be a female student (undergraduate or graduate) enrolled at Kyoto University.
Scholarship
A scholarship of up to 1 million yen will be awarded for each project selected.
Implementation period
1 July 2023 – 29 February 2024
Application deadline
Monday 15 May 2023
Submission method
Please fill out the application form (MS Word) and submit it via email to the Submissions and inquiries address below.
Submissions and inquiries
Diversity Promotion Section, Staff Development Division, Personnel Department, Kyoto University
Email: g-e*mail2.adm.kyoto-u.ac.jp (replace * with @)
Related departments & centers