The 16th Southeast Asia Network Forum, subtitled "Carbon Neutral Urban Design and Manufacturing", was held in Phnom Penh, Cambodia, on 12 September 2022. Launched in 2015, the forum is held in ASEAN countries by Kyoto University and local alumni with the aim of sharing the University's latest academic achievements relating to topics of local interest with communities throughout the region.
The 16th Southeast Asia Network Forum was held in collaboration with the Kyoto University Alumni Association of Cambodia, the Association of Kyoto University Alumni in Indonesia (HAKU), the Kyoto University ASEAN Center, the Kyoto University Research Administration Center (KURA), and the University's Institute of Advanced Energy. Forty-seven people attended, including local government officials, academics, students, and members of the general public.
The forum was moderated by Professor Eiji Nawata, director of the ASEAN Center, and opened with welcome remarks from the following delegates:
Dr Kyoko Inagaki, Executive Vice-President for Gender Equality, International Affairs, and External Affairs, Kyoto University (participating online)
Ms Tomoko Kubo, Counselor, Embassy of Japan in Cambodia
Dr Hul Seingheng, Director General, Ministry of Industry, Science, Technology and Innovation of Cambodia
Professor Dr Ngo Bunthan, Rector, Royal University of Agriculture of Cambodia
Dr Po Kimtho, Director General, Institute of Technology of Cambodia
Associate Professor Dr Sovannroeun Samreth, Kyoto University Alumni Association in Cambodia
Professor Suharman Hamzah, President, Association of Kyoto University Alumni in Indonesia (HAKU)
The forum's keynote speeches were delivered by Professor Keiichi Ishihara of Kyoto University's Graduate School of Energy Science, Dr Chea Sinat from the Department of Scientific Research of the Ministry of Education, Youth and Sport of Cambodia, and Dr Hak Mao, director of the Department of Climate Change of Cambodia.
The forum also included a "flash presentation session", moderated by Professor Satoshi Kobayashi of Kyoto University's Center for Southeast Asian Studies, in which Cambodian alumni gave reports on their activities.
The flash presentations were followed by a panel discussion on "Carbon Neutral Urban Design and Manufacturing". The panelists included two of the keynote speakers, Professor Keiichi Ishihara and Dr Chea Sinat, as well as Dr Hor Sanara, vice dean of the Faculty of Land Management at the Royal University of Agriculture, Cambodia, and Dr Rey Sopheak, international project coordinator at the United Nations Industrial Development Organization (UNDO), both of whom are alumni of Kyoto University.
The event closed on a high note, with the panelists responding to numerous questions from the enthusiastic session participants.
After the forum, a closed meeting was held to discuss collaboration and exchange between Kyoto University and its Cambodian and Indonesian alumni, as well as the further development of overseas alumni association activities. Professor Eiji Numata, special assistant to the president of the Kyoto University Alumni Association, participated online and introduced the Alumni Association's various support activities.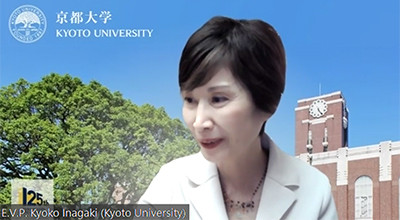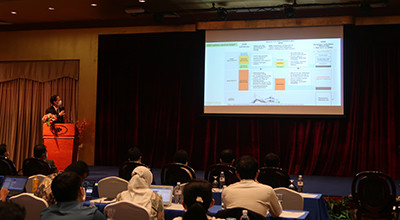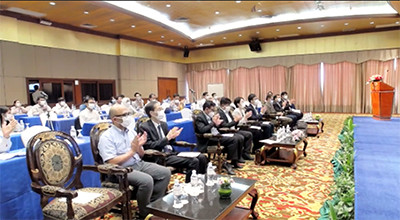 Related departments & centers