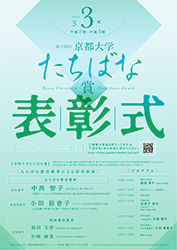 UPDATE (2 March 2022) : The speaker for the closing remarks at the Awards Ceremony has been changed.
The Kyoto University Tachibana Award for Outstanding Women Researchers was established in 2008 to recognize exceptional achievements by the institution's early-career women researchers.
The University is pleased to announce that it has selected the winners of the 14th Tachibana Award and Honorable Mention Award and will hold a ceremony to celebrate their achievements on Thursday 3 March 2022, as detailed below.
1. About the Award
The Tachibana Award for the Most Outstanding Female Researcher was established in 2008 to acknowledge outstanding research achievements by early-career female researchers at Kyoto University.
By publicly acknowledging women who have made outstanding achievements in academic research regardless of the research field, the Tachibana Award aims to motivate not only the awardees themselves, but also others following in their footsteps. In this way, the award seeks to help foster the development of accomplished female scholars who will lead the future of academic research, both at Kyoto University and nationwide.
2. 14th Award selection process
There were a total of 24 applicants, 14 in the student category and 10 in the researcher category.
The winners were selected through a two-stage process by a committee comprised of nine members and chaired by Dr Kyoto Inagaki, Kyoto University's executive vice-president for gender equality, international affairs, public relations, and external affairs.
3. 14th Award winners
Tachibana Award
Student category
Tomoko NAKANISHI, 4th-year doctoral student, Graduate School of Medicine
"Genetic determinants of susceptibility and severity of respiratory diseases and their clinical implications"
Researcher category
Yukako ODA, Assistant Professor, Institute for Frontier Life and Medical Sciences
"Discovery of anti-inflammatory physiological peptides that promote tissue-repair by reinforcing epithelial barrier formation"
Honorable Mention Award
Student category
Tamao MAEDA, 2nd-year doctoral student, Graduate School of Science
"The study on a multilevel society of feral horses using drones"
Junna KAWASAKI, 3rd-year doctoral student, Graduate School of Biostudies
"Repurposing open data for virus hunting in infectious diseases research"
4. Award ceremony
The ceremony and research presentations by the Tachibana Award winners can be viewed live online by registering via the form below.
Date and time
Thursday 3 March 2022, 14:00–15:00
Venue
Online (Zoom webinar)
Language
Japanese
Registration
Use the following form:
Registration form to watch the award ceremony
Registration deadline
17:00 on Wednesday 2 March 2022
---
Program
14:00–14:05
Opening speech
Dr Kyoko INAGAKI
Executive Vice-President for Gender Equality, International Affairs, Public Relations, and External Affairs
Kyoto University
14:05–14:15
Presentation of award certificates and Wacoal Prizes
14:15–14:25
Presidential address
Dr Nagahiro MINATO, Kyoto University President
14:25–14:35
Congratulatory speech by the distinguished guest
Yasuo KAMOSHITA
Director and Managing Corporate Officer
Wacoal Corporation
14:35–14:55
Research presentations by the Tachibana Award winners

Student category: Tomoko NAKANISHI
Researcher category: Yukako ODA

14:55–15:00
Closing speech
Takashi MURANAKA
Executive Vice-President for Strategy Coordination, Planning, Student Affairs, and Health, Safety, and Environmental Management
Kyoto University
Related link
Kyoto University Tachibana Award for Outstanding Women Researchers
Related departments & centers