From 1 October to 18 December 2021 the Department of Environmental Engineering of the Graduate School of Engineering held the "Education Program for Human Resources with Global Views in Environmental Science and Technology" online as part of the Kyoto University Wild & Wise Collaborative Learning Program. The twenty-three student participants came from three institutions: six from Tsinghua University in China, four from the University of Malaya in Malaysia, and thirteen from Kyoto University.
The Education Program consisted of an opening ceremony, group work sessions (six in total), lectures (three in total), a workshop, a cultural event, virtual site visits, and a symposium.
The group work involved investigating and discussing water and waste issues in the participants' respective countries with attention to the problems' common and unique features.
The workshop took place from 14:00 to 18:00 on 12 November with around 60 attendees, including university students, faculty, and staff as well as business representatives. The event began with remarks from Professor Tetsuo Sawaragi, dean of the KyotoU Graduate School of Engineering, and Professor Zuo Jian'e, associate dean of Tsinghua Shenzhen International Graduate School, and featured presentations by the program participants, who discussed their research and shared findings from their group work sessions.
The cultural event offered a chado (tea ceremony) experience led by Ms Ruiko Ito and other practitioners from the Urasenke Tankokai Federation International Affairs Department.
In the virtual site visits, participants learned about some of the waste-disposal and wastewater-treatment facilities in the city of Kyoto and other locations by watching the videos created and presented by Kyoto University students and early-career researchers.
The final day featured the Kyoto University-Tsinghua University Symposium 2021 on Research and Education of Environmental Engineering, where the participants from the three universities reported on what they had learned together over the last weeks.
The Education Program ended successfully with the students having developed a shared awareness of global and regional environmental issues and mutual understanding.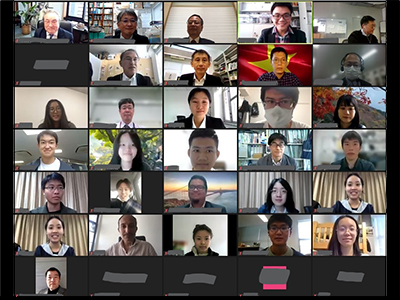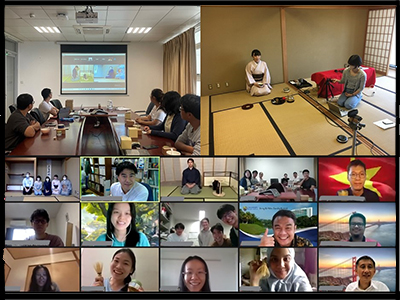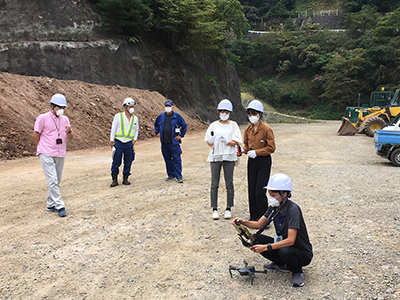 Related link
Related departments & centers