Student Lounge KIZUNA's November 2021 online event, held on the 25th, was an English rakugo show featuring Sayohime, an accomplished performer active mainly in the Kansai region, whose previous KIZUNA appearances have met with great success.
The event began with a brief lecture by the artist herself, in which she outlined the origins of rakugo using slides, demonstrated the use of a sensu (folding fan) and tenugui (hand towel) as props, and explained the concept of ochi (the punchline).
Following this introduction, Sayohime gave an English performance of the classic story "One More Thing", or "Uchikai nusutto" (a thief with an uchikai bag), which features a humorous conversation between a burglar and a dirt-poor man. Her comical performance vividly conveyed the hilarity of the characters' dialogue, eliciting frequent laughter from the culturally diverse audience.
Afterward, she led a rakugo workshop and question-and-answer session, where participants practiced funny short stories and tried to perform them in the manner of a professional artist.
Everyone enjoyed the opportunity to experience traditional Japanese comic storytelling and to mingle with peers from other parts of the world, laughing and having fun together in an online crossing of cultures.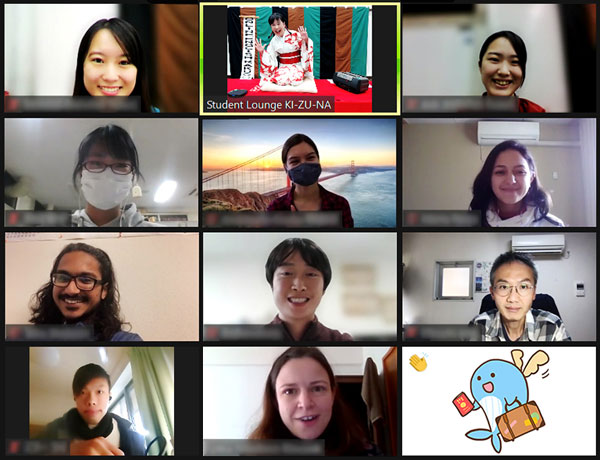 Related links