On 21 September the Kyoto-Africa IAfP Short-Term Online Course opened with seven students participating from universities in Egypt, Ethiopia, Cameroon, the Democratic Republic of Congo, Zambia, and Botswana. The course participants will receive individual research guidance, attend lectures with Japanese peers, work on presentations, and take part in international exchange over a three-month period ending 20 December.
IAfP stands for "Innovative Africa: Educational Networking Program for Human Resource Development in Africa's SDGs", which Kyoto University and the Tokyo University of Foreign Studies have been running jointly since 2020 as part of the "Network of Japanese Universities for the Exchange with Africa" initiative.
The first day of the course was devoted to an opening ceremony, which began with Dr Takao Hirajima, Kyoto University's executive vice-president for education, information infrastructure, and library services, discussing the history of African studies at the University and the importance of education to sustainable development in Africa. Professor Masayoshi Shigeta, dean of the Graduate School of Asian and African Area Studies (ASAFAS) and leader of IAfP, then greeted the students and explained the program.
These were followed by self-introductions by the faculty hosting the course participants, the students themselves, and IAfP faculty and staff. Afterwards, ASAFAS Associate Professor Hidenori Harada offered a course overview and showed a KyotoU introduction video.
The seven students will present their research on the final day, 20 December, at an international joint conference to be held as part of IAfP.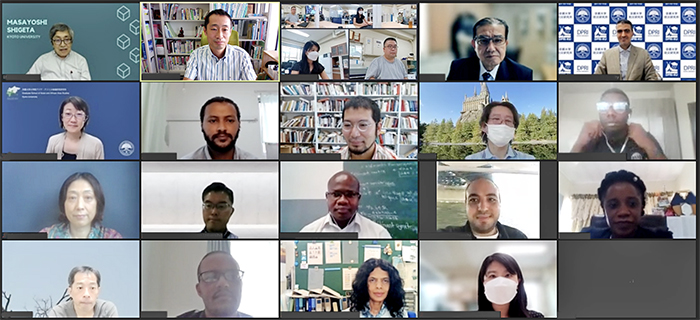 Related link
Innovative Africa: Educational Networking Programs for Human Resource Development in Africa's SDGs