The Institute for Liberal Arts and Sciences (ILAS) held from 14 to 24 February 2021 a "2021 Kyoto Spring Program for East Asia, Europe and North America Students with KU Students", for 38 students selected from nine partner universities: Peking University, China; National Taiwan University; the Chinese University of Hong Kong; Yonsei University, South Korea; Heidelberg University, Germany; the University of Vienna, Austria; George Washington University, the United States; the University of California San Diego, the United States; and Mahidol University, Thailand. The program was co-supported by the Wild & Wise Collaborative Learning Program, and organized in cooperation with the Kyoto University Asian Studies Unit (KUASU).
Unlike the previous editions, the 2020-2021 ILAS program was held online and in early spring, instead of in summer, which made it available to a larger number of students, with 44 joining from KyotoU, some of them as facilitators and discussants.
The program's curriculum is centered on collaborative learning between international and local students, and has participants from KyotoU plan some of the activities themselves, such as field trips and cultural experiences, so that they can hone their planning and management capabilities in addition to improving their international understanding. The 2021 activities included a virtual field trip, where a KyotoU student introduced a Japanese company called Otsuka Ohmi Ceramics, and cultural experiences featuring kimono, tea ceremony, a koto (Japanese zither) performance, and an origami workshop.
For the very first time, this year's program also offered laboratory tours, where participants were excited to be exposed to the latest research, with some expressing an interest in studying at KyotoU.
There were also Japanese language classes at five proficiency levels, and lectures by ten prominent scholars on varied topics, some delivered in English and others in Japanese. The lecturers included five who were newly invited for the 2020-2021 program, who spoke on the following topics:
"Evolution of human socialities: from a viewpoint of primatology" by Professor Emeritus Juichi Yamagiwa, former KyotoU president
"Japan's energy-environment conundrum" by the guest lecturer, Dr Michael Hugh, director of the Stanford Program in Kyoto, Stanford University
"Journey to the Termite World" by Professor Kenji Matsuura, KyotoU Graduate School of Agriculture
"Diplomatic ceremonial in the last decade of the Tokugawa Shogunate: Japan's first step into modern diplomacy before the Meiji Restoration" by Professor Mayuko Sano, KyotoU Graduate School of Education
"Socio-linguistic aspects of Japanese" by Associate Professor Taro Iemoto, ILAS
The program concluded with a completion ceremony following presentations by the participating students.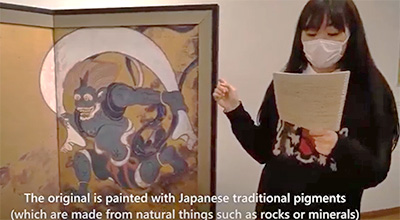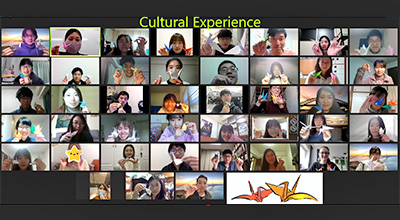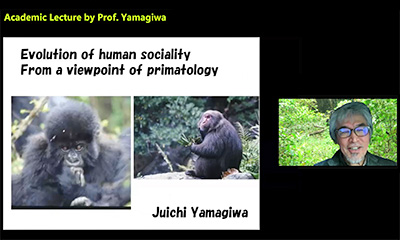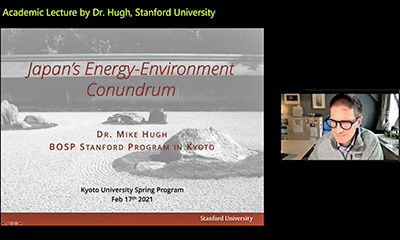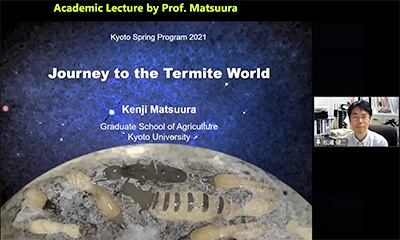 Related link
Related departments & centers