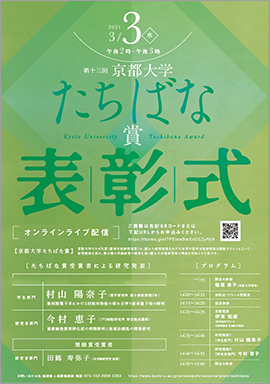 Now in its 13th year, the Kyoto University Tachibana Award for Outstanding Women Researchers was established in 2008 to acknowledge the achievements of early-career women researchers at Kyoto University.
Winners of the 2021 Tachibana Award and Honorable Mention Award in both student and researcher categories have been announced as below, with an award ceremony set to take place online Wednesday 3 March.
1. About the Tachibana Award
The Kyoto University Tachibana Award for Outstanding Women Researchers honors excellent achievements by Kyoto University's early-career women researchers. By publicly recognizing women who have produced outstanding work in the humanities, social sciences, and natural sciences, the Award aims to further motivate the awardees as well as others following in their footsteps, so as to contribute to the development of women scholars who will lead the future of academic research at Kyoto University and beyond.
2. 2021 selection process
There were 26 applications, 12 in the student category and 14 in research. The winners (listed below) were selected following a two-stage evaluation by a 10-member committee, chaired by Dr Kyoko Inagaki, executive vice-president for gender equality, international affairs, public relations, and external affairs.
3. 2021 awardees
Tachibana Award
Student Category
Hinako Murayama, second year, doctoral program, Graduate School of Science
"Novel quantum phases accompanied by rotational symmetry breaking in strongly correlated electrons"
Researcher Category
Keiko Imamura, Program-Specific Research Center Lecturer, Center for iPS Cell Research and Application (CiRA)
"Elucidation of the pathology of amyotrophic lateral sclerosis and development of the novel therapeutic agents"
Honorable Mention
Researcher Category
Suyako Tazuru, Assistant Professor, Research Institute for Sustainable Humanosphere (RISH)
"Interdisciplinary research aimed at understanding the diversity of East Asian wood cultures, based on scientific investigations of cultural heritage materials employing both traditional and novel techniques"
4. Award ceremony
The 2021 Tachibana Award Ceremony and research presentations will be held as follows.
Date and time
Wednesday 3 March 2021, 14:00–15:00
Venue
Online (Zoom Webinar)
Registration
Complete and submit the following form:
13th Tachibana Award Ceremony attendance registration form (in Japanese)
Deadline
Tuesday 2 March 2021
Program
14:00–14:05
Opening address
Dr Kyoko Inagaki
Executive Vice-President for Gender Equality, International Affairs, Public Relations, and External Affairs
Kyoto University
14:05–14:15
Presentation of award certificates and the Wacoal Prizes
14:15–14:25
Presidential remarks
14:25–14:35
Congratulatory address by the guest of honor
Tomoyasu Ito
Representative Director, President, and Corporate Officer
Wacoal Corporation
14:35–14:45
Research presentation 1
Hinako Murayama, student winner of the Tachibana Award
14:45–14:55
Research presentation 2
Keiko Imamura, researcher winner of the Tachibana Award
14:55–15:00
Closing address
Related link
Kyoto University Tachibana Award for Outstanding Women Researchers