Professor Fumihiko Matsuda of the Graduate School of Medicine has been named Chevalier de l'Ordre des Palmes Académiques (Knight of the Order of Academic Palms) by France's ministry of education, receiving the honor 25 January 2021 from the French ambassador to Japan, Mr Philippe Setton, at his official residence in Tokyo.
Professor Matsuda graduated from the KyotoU Faculty of Medicine in 1983, completed a medical science master's program at the Osaka University Graduate School of Medicine in 1986, and received his doctorate from the KyotoU Graduate School of Medicine in 1990. He subsequently served as a research assistant at Kyoto University, first at the Center for Molecular Biology and Genetics, and then at the Graduate School of Medicine's Department of Medical Chemistry. In 1998, he joined the Centre National de Génotypage (CNG), currently the Centre National de Recherche en Génomique Humaine (CNRGH), France, to head a department. In 2003, he accepted an additional appointment as professor at the KyotoU Graduate School of Medicine, and for the next five years traveled back and forth between Paris and Kyoto to serve in these two positions.
His ties to France have to date involved undertakings such as the projects he ran as a CNG department head, a four-year Japan-France collaboration that he led as a research director at the Institut national de la santé et de la recherche médicale (Inserm), a joint study with a University of Bordeaux team, a skin-aging research project with Chanel utilizing the Nagahama City cohort program, and a recently launched effort with the Pasteur Institute related to the Covid-19 pandemic.
Professor Matsuda has also been making active contributions to Japan-France cultural exchange, having organized a KyotoU-Chanel event held at the University's Seifuso Villa, and having participated in a cultural event hosted by the French consulate.
It is in recognition of these wide-ranging contributions, efforts, and achievements that Professor Matsuda was conferred the title of Chevalier.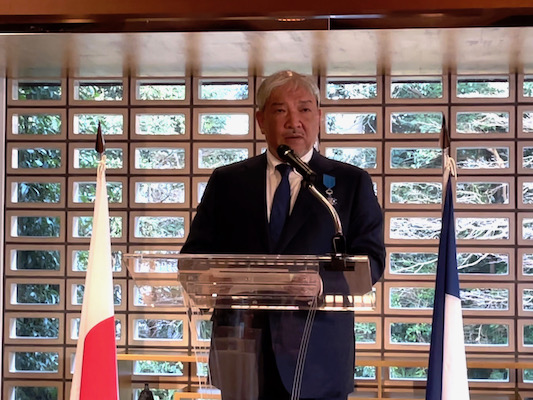 Comments from Professor Matsuda
As a doctoral student, I received the following words from my mentor, Professor Tasuku Honjo: "It is your job as a medical researcher to find a cure for at least one disease, however rare that condition may be." My research is still ongoing, and may take some more time before it can actually help patients. As such, I understand the honor that has been bestowed on me to be a call from the President of France to redouble my efforts, rather than a reward for whatever I may have achieved or contributed thus far. I will continue to exert myself, and strive for the goal of making a difference for people around the world.
Related departments & centers