On 3 March, Kyoto University held an award ceremony for the 12th Tachibana Award for Outstanding Women Researchers. The annual award honors the University's early-career women scholars who have made exceptional achievements over the past year.
Held at the University Head Office building, the 2020 ceremony opened with remarks from Dr Kayo Inaba, executive vice-president for gender equality, international affairs, and public relations, speaking as the award committee chair on the 2019-2020 selection process. President Juichi Yamagiwa then presented certificates and plaques to the two winners, one in the student category and the other in the researcher category. The student winner was Rina Nagata, in her second year in the doctoral program at the Graduate School of Biostudies, and the researcher winner was Dr Kaoru Sugimura, program-specific research-center associate professor at the Institute for Advanced Study (KUIAS). Each also received a Wacoal Prize from Mr Yasuo Kamoshita, Wacoal Corporation's director and managing corporate officer.
Next, three contestants selected for honorable mention, one in the student category and two in the researcher category, accepted certificates and additional prizes, also from President Yamagiwa and Director Kamoshita: Toko Mannari, second-year doctoral student at the Graduate School of Engineering, Dr Kaoru Tsuji, researcher at the Center for Ecological Research, and Dr Yukako Hattori, assistant professor at the Graduate School of Biostudies.
President Yamagiwa then delivered a congratulatory address, wishing all the awardees continued success in their research, followed by Director Kamoshita's congratulations.
Afterward, Ms Nagata and Dr Sugimura presented their winning research, the former discussing "genetic analysis of molecular mechanisms of cell competition", and the latter, "mechanisms of multicellular pattern formation based on mechanical forces".
The lively event concluded with an address from Dr Shinsuke Kawazoe, executive vice-president for student affairs and library services, who expressed his gratitude to the ceremony attendees for showing up despite the difficult situation caused by the novel coronavirus outbreak.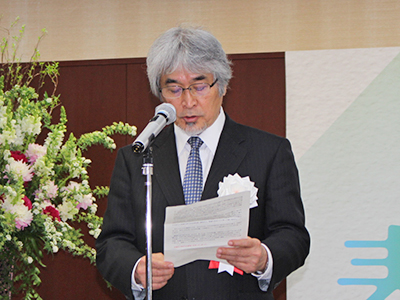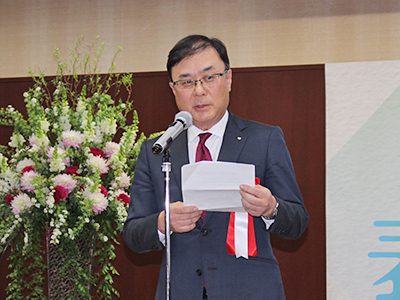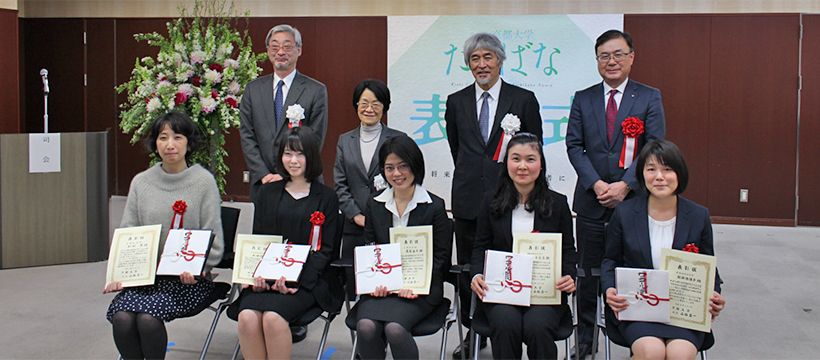 Related link