The Institute for Integrated Cell-Material Sciences (iCeMS), a part of Kyoto University Institute for Advanced Study (KUIAS), has recently concluded an MoU on academic exchange with the King Abdullah University of Science at Technology (KAUST), Saudi Arabia. The agreement was formalized 23 October with an MoU exchange ceremony, held in Tokyo during the Saudi-Japan Vision 2030 Business Forum in the presence of officials including His Excellency Mr Isshu Sugawara, minister of economy, trade, and industry of Japan, and His Excellency Mr Nayef Mrzouq Alfahadi, ambassador extraordinary and plenipotentiary of the Kingdom of Saudi Arabia. iCeMS was represented by Director/ KUIAS Distinguished Professor Susumu Kitagawa, and KAUST by Dr Donal Bradley, vice president for research, and Dr Najah Ashry, senior associate to the president and vice president of strategic national advancement.
KAUST opened in 2009 with the aim of developing world-class technology research and expanding educational opportunities for women. It is attracting top researchers from around the world to conduct research and educate students using cutting-edge equipment and machinery.
The newly concluded MoU builds on the existing partnerships between individual iCeMS and KAUST researchers to establish a collaborative framework for the two organizations, which are currently in the process of planning a 2020 KyotoU-KAUST symposium on latest energy materials.
Under the new partnership, KyotoU and KAUST will also work with iCeMS-developed technologies behind advanced energy materials, focusing on the underlying research and on its material applications, respectively.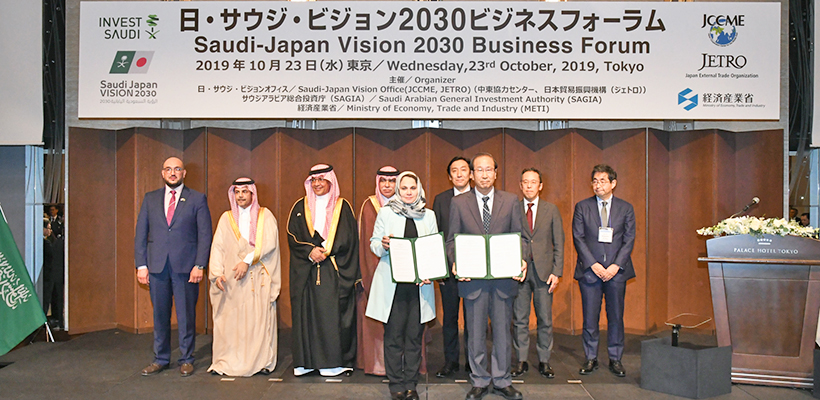 Front row from left: KAUST Vice President Ashry and iCeMS Director Kitagawa
Related links
Related departments & centers