Student Lounge KIZUNA's August event was a kabuki traditional Japanese music class, held on Tuesday the 6th at the International Seminar House. As with similar and highly successful past events, instruction was provided by members of Kantakeno no Kai, who used to teach shamisen (three-stringed banjo) and nagauta (songs from kabuki) lessons at the Kyoto International Community House and other venues.
In the 6 August event, participants first listened to the instructors' performance of nagauta "Miyako-dori" (bird of the capital), and then attended a brief lecture. The presentation included a discussion of the materials used to construct the instrument, and was followed by a lively Q&A, where participants were intrigued to learn that shamisen need constant fine-tuning due to their silk strings, which are highly sensitive to temperature and humidity. Later, the students split into shamisen and nagauta groups, and took turns practicing the song "Sakura Sakura".
Afterwards, a KIZUNA office assistant gave a demonstration performance of a niko , a Chinese, violin-like instrument sharing similarities with the shamisen. She described the differences in sound generation between the two instruments, and performed a jazz rendition of the song "La Vie en Rose" on her niko, further enriching the learning experience.
The event provided a great opportunity for all to experience a traditional Japanese performing art and to get to know each other.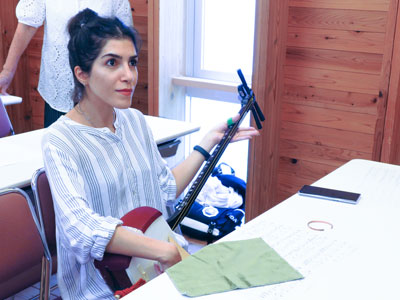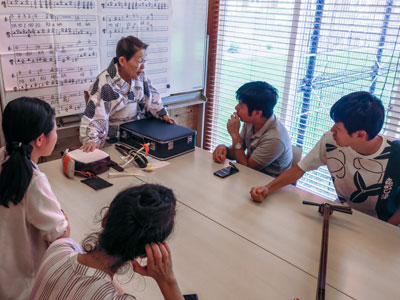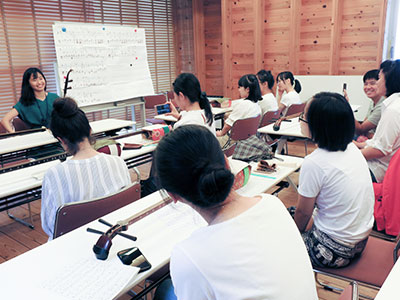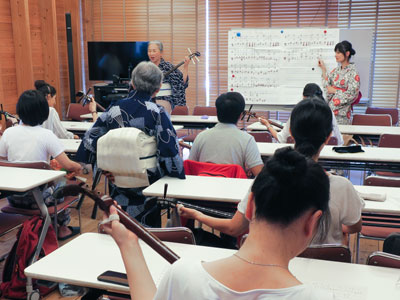 Related links