A KyotoU team led by Dr Junzou Hamanishi, senior lecturer and junior associate professor at the University Hospital, has recently commenced an investigator-initiated clinical trial of FIT-039, a low-molecular compound, to evaluate its efficacy and safety in the treatment of cervical intraepithelial neoplasm, or CIN, a precursor to cervical cancer. Team members include the Graduate School of Medicine's Professors Masatoshi Hagiwara (anatomy and developmental biology) and Masaki Mandai (gynecology and obstetrics).

CIN occurs mostly as a result of prolonged infection with the human papillomavirus, or HPV. Cervical cancer, which can develop on the uterine cervix following CIN, is estimated to afflict around 10,000 women in Japan each year, a growing percentage of them aged between 20 and 40. Squamous cell carcinoma, the most common type of this cancer, has been found to result from CIN, which can be divided according to severity into CIN 1, 2, and 3.

The Hamanishi team's approach is to treat CIN 1 or 2 using FIT-039, which has been found to inhibit the multiplication of HPV, thereby preventing the development of cervical cancer. The plan was submitted to the Pharmaceuticals and Medical Devices Agency (PMDA) in February 2019 for final approval.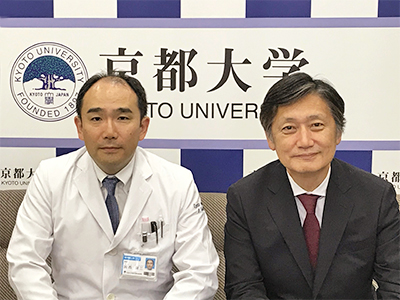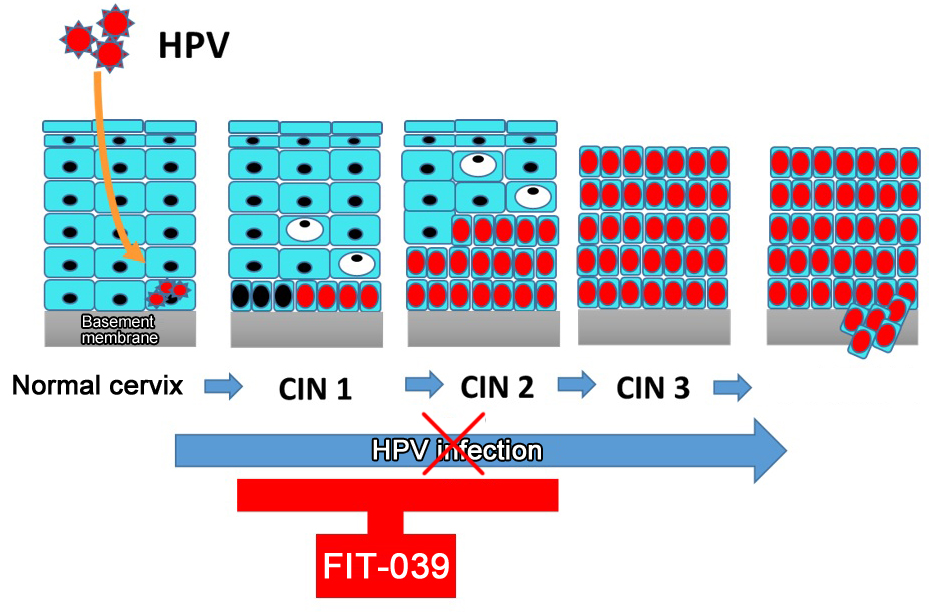 How cervical cancer develops and how the process may be halted using FIT-039
( CIN results from prolonged HPV infection, and can progress from stage 1 to 2, and to 3, eventually developing into cervical cancer. FIT-039 is known to inhibit HPV multiplication, and may therefore be effective against CIN.)
Related departments & centers