Student Lounge KIZUNA's July 2019 event was a nuno zori (cloth sandal) workshop, held on Monday the 19th with instruction provided by staff from hobby and craft shop Zakka Beans.
The first step was to stretch strings of colorful cotton knit cloth to make them long and thin. Once this was done, participants started on the sandal base, winding the cloth strings tightly around a framework made of polypropylene cord. They continued working until the base grew to the size of their own feet. As they went about this task, the students carefully selected the cloth to use for each section of the base in the hope of achieving their desired aesthetic effect. Finally, they attached hanao (thongs) to the sandal base, and tried on the finished nuno zori to see if they fit. Thanks to the step-by-step guidance from the instructors, the workshop concluded with all the participants having produced excellent sandals to take home as souvenirs.
The event also offered a chance to try on one-tooth geta clogs, known for their health and balance improvement benefits.
The workshop provided a great opportunity for everyone to experience a traditional Japanese craft with an eco-friendly twist while making new friends.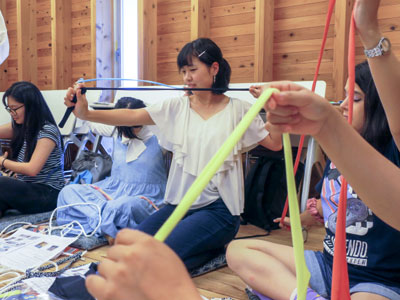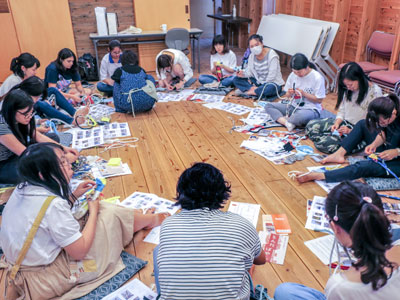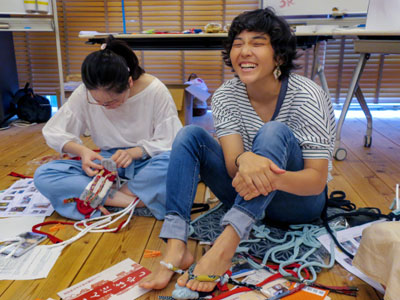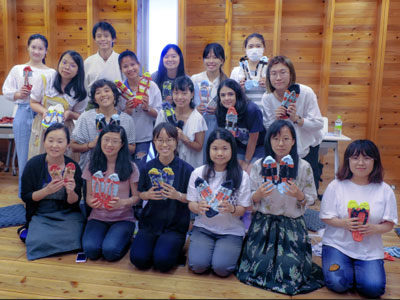 Related links