Student Lounge KIZUNA's May event was a bamboo weaving workshop, held Thursday the 23th with instruction provided by professional craftspeople from Yokoyama Bamboo Products & Co.
A simple shikainamihana -style basket, designed after a four-petaled, wave-patterned flower, was chosen for the activity to make it beginner-friendly and the traditional craft experience enjoyable for everyone.
As the workshop began, participants moistened thin strips of bamboo to make them flexible enough not to split when bent or twisted. They then began work on the base of the basket. The process consisted of interlacing two orthogonal sets of eight bamboo strips, in such a way as to form a simple lattice pattern. In the next step, the students first separated the ends of the bamboo strips protruding from each side of the lattice square into two four-strip bundles, left and right. They then took the left bundle from the left end of one eight-strip set, and the right bundle from the right end of another, and looped them around each other. Repeating this four times yielded a four-wave-pattern structure that is emblematic of the shikainami style. Finally, participants adjusted the sizes and shapes of their baskets by pushing and pulling various parts of the structures.
Following the instructors' step-by-step guidance, everyone successfully completed the weaving process in time, mastering the art of adhesive-free craft-making and producing an original basket to take home as a souvenir.
The event provided a great opportunity for everyone to experience a traditional Japanese craft and aesthetics while making new friends.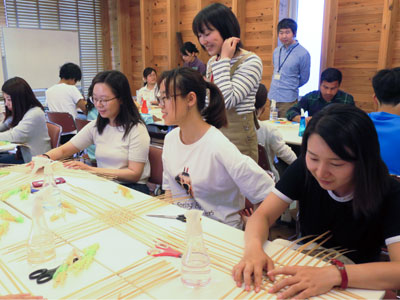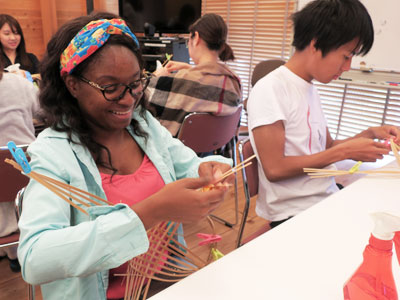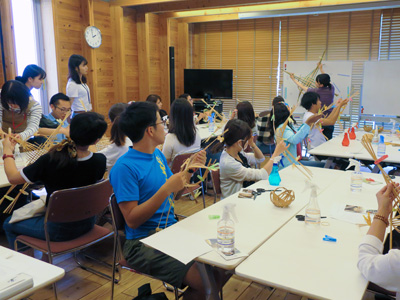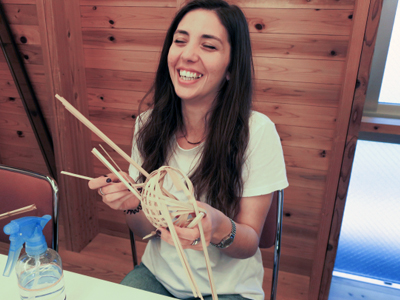 Related links