On 8 March 2019, Kyoto University and Mahidol University (MU), Thailand, held a joint symposium to mark the recent opening of an environmental studies research and education center at the latter as a KyotoU "on-site laboratory". The locally managed facility, called the "Kyoto University On-Site Laboratory at Mahidol University for Educational and Research Collaboration in Environmental Studies", was established by the Graduate School of Global Environmental Studies (GSGES) and the MU Faculty of Engineering following years of active collaboration.
The symposium was held concurrently at two venues, MU's Salaya Campus and GSGES in Kyoto, which were connected via video conference and a slide-sharing platform.
In attendance at the Thai venue were MU officials including Professor Banchong Mahaisavariya, president, and Professor Yodchanan Wongsawat, vice dean for research and international relations, as well as Mr Yasunari Ueno, first secretary at the Embassy of Japan, and Mr Kuniaki Yamashita, director of the Japan Society for the Promotion of Science (JSPS) Bangkok Office. Kyoto University was represented by: GSGES Dean Shinya Funakawa; Dr Mamoru Shibayama, director of the ASEAN Center; GSGES Professor Shigeo Fujii; Professor Minoru Yoneda, vice dean of the Graduate School of Engineering; Professor Mamoru Kanzaki, Graduate School of Agriculture; Mr Hiroshi Ando, director of the University Planning Division; and Ms Mariko Ando, senior lecturer at the International Strategy Office. Attendees also included students from both universities, bringing the total attendance to approximately 100.
Joining from the Kyoto venue were an additional 55 individuals, including Professor Nagahiro Minato, provost and executive vice-president for strategy coordination, research, planning, and hospital administration, as well as other KyotoU faculty, researchers, students, and administrators.
Part I opened with addresses from MU President Mahaisavariya, KyotoU Provost/EVP Minato, and First Secretary Ueno. These were followed by four presentations: "KU Proposals for Designated National University Corporation Status and On-site Laboratories" by Provost/EVP Minato, "Higher Education & Internationalization" by MU President Mahaisavariya, "Academic Exchange Activities Between Japan and Thailand" by JSPS Bangkok Office Director Yamashita, and "Private Sector Objectives for the On-site Laboratory" by Mr Noriaki Matsuo from Hitachi Zosen Corporation's Bangkok Office.
Part II began with introductions of the MU Faculty of Engineering and GSGES, delivered by MU Vice Dean Yodchanan Wongsawat and GSGES Dean Funakawa, respectively. Two presentations followed, one on MU-KyotoU educational and research collaboration, and the other on double-degree programs. Four students then reported on their experiences of studying or training abroad at MU or KyotoU.
In Part III, attendees at the MU venue toured the campus by tram, later separating into two groups to visit either the engineering or the agricultural research laboratories. Each group actively discussed possible forms of educational and research collaboration in related fields, and later shared the outcomes of their discussions at a plenary session, which concluded the symposium.
Prior to the conference, the KyotoU professors and officials attending the Thai event, along with First Secretary Ueno, JSPS Bangkok Office Director Yamashita, and ASEAN Center Director Shibayama, paid a courtesy visit to MU President Mahaisavariya.
The symposium, meanwhile, was followed in the evening by a KyotoU alumni reunion, held in Bangkok's Asoke area. About 60 graduates and other attendees enjoyed the opportunity to cultivate friendships, arranged by Mr Takashi Sasaki, chairman of the local Thai Hyakumanben Kai alumni association.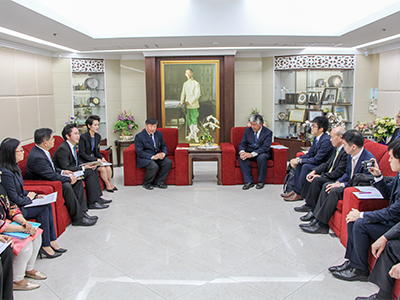 Courtesy call to MU President Mahaisavariya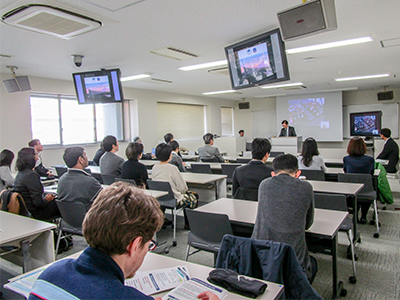 KyotoU venue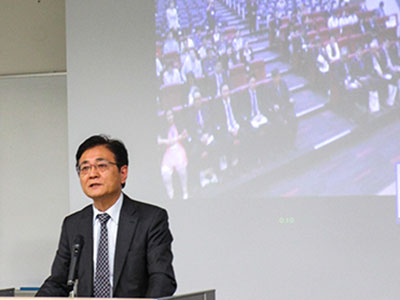 Provost/EVP Minato (with the MU audience shown on the backdrop screen )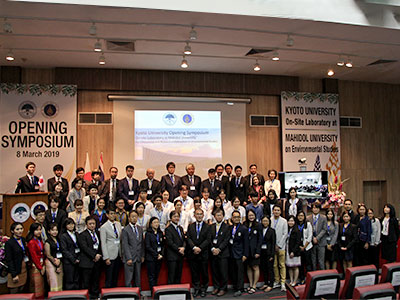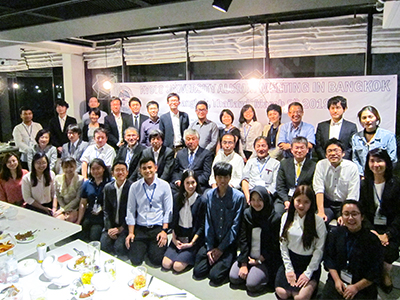 KyotoU alumni reunion
Related departments & centers