Student Lounge KIZUNA's March event was a Japanese tea ceremony workshop, "Pleasure of a Simple Bowl of Tea", held at Kanjoan, a well-known tearoom in northwest Kyoto. Kanjoan is part of a Japanese-style house renovated to offer an aesthetic setting for enjoying tea. The teacher was Mr Michael Drzmisek Sozui, a Swiss-born master of the Urasenke School.
In the workshop, Mr Sozui introduced participants to the spirit and art of the "way of tea" in a humorous way, beginning with a lecture on the history and fundamental rules. He also demonstrated the procedures involved, before treating the guests to traditional sweets.
Participants then worked in pairs to make matcha (powdered green tea), using a chasen bamboo whisk. Producing fine foam proved a challenge for those unfamiliar with the technique, but following the master's instructions, everyone eventually made a delectable bowl of tea.
Afterwards, Mr Sozui served koi-cha , a "thick tea", whose pasty texture and distinct flavor surprised and impressed many of the participants. The session also included a detailed lecture on tea-things, such as charcoal for the ro , a sunken hearth.
The workshop concluded with an enthusiastic discussion on Japanese tea culture, where everyone learned about the art from the unique perspective of a foreign-born expert, while experiencing the "pleasure of a simple bowl of tea".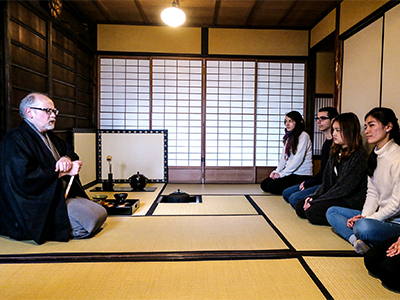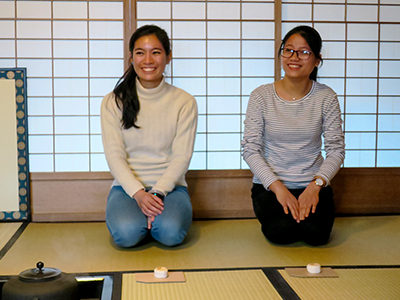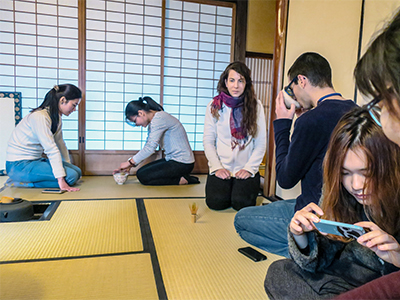 Making tea in pairs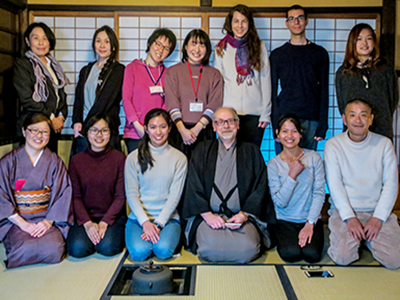 Related Links