For a 16-day period beginning 21 October, the Graduate School of Global Environmental Studies (GSGES) hosted the 2018 International Autumn School for Environmental Studies for 11 students selected from partner universities in Europe, Asia, and Oceania, as well as six from Kyoto. The Autumn School was held as a KyotoU Wild & Wise Collaborative Learning Program, as part of GSGES' environmental studies-focused "Japan Gateway: Kyoto University Top Global Program (JGP)", which involves education collaboration with world-class universities prominent in the field.

The Autumn School began with participants working to develop a shared understanding of the current state of their countries in relation to the program's main topics — forestry, forest resource management, waste management, water treatment, agriculture, natural disasters, and the atmospheric environment — and in the context of the Sustainable Development Goals (SDGs). After learning about the issues faced by each country, the students attended a special lecture series to deepen their knowledge of said challenges. They then took part in excursions and attended lectures to gain a firsthand understanding of the issues confronting Japan.

On the topic of the atmospheric environment, the students participated in a special seminar featuring a guest lecturer from University College Cork, Ireland, discussing air pollution issues and countermeasures, and conducted an experiment in atmospheric chemistry.

On the final day, participants made presentations on each country's latest achievements and ongoing challenges in areas related to the program's topics, from both global and individual perspectives and based on what they had learned in the course of the Autumn School. The ensuing discussion expanded on these talks and explored possible solutions to specific issues, from the viewpoints of engineering, sociology, and politics.

Thanks to active participation by the students and support from GSGES' young faculty and staff, the program proceeded smoothly while facilitating meaningful discussions and providing a range of enriching and unforgettable experiences for all. The organizers hope that this and other opportunities for international collaborative learning in environmental studies will contribute to the field's development and to the realization of an environmentally-sound and sustainable society in the near future.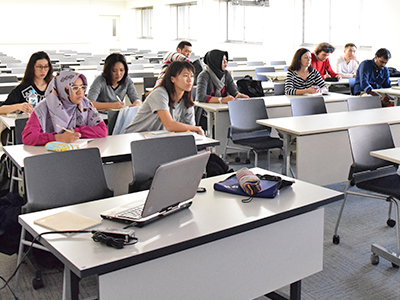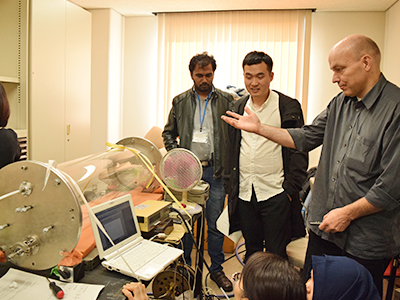 Atmospheric environmental chemistry seminar held on the Yoshida Campus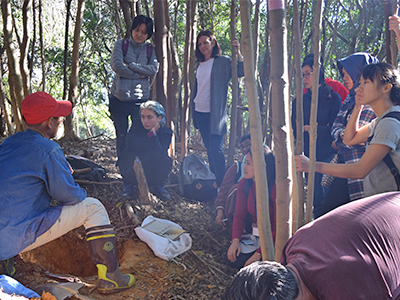 Field lecture on forestry and forest management in Wakayama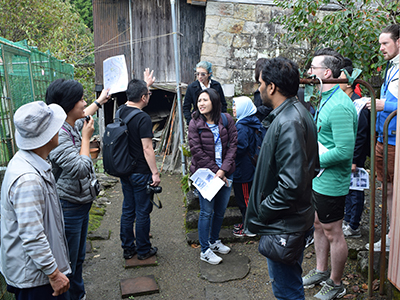 Excursion exploring community-based disaster mitigation in Wakayama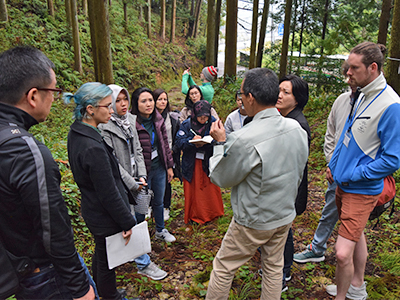 Field lecture on soils and forest ecosystems in Wakayama
Related link
Related departments & centers