The Institute for Integrated Cell-Material Sciences (iCeMS), a part of the Kyoto University Institute for Advanced Study (KUIAS), is excited to announce the establishment of an international associated laboratory named "Small Molecule Lab: LIA-Smolab" in partnership with the French National Center for Scientific Research (CNRS), Claude Bernard University Lyon 1, the National Chemical Engineering Institute in Paris, Paris Sciences & Lettres Research University, and Air Liquide SA.

Under Director Susumu Kitagawa's leadership, iCeMS has deepened research collaborations with CNRS and Air Liquide in the development and applications of porous coordination polymers (PCPs). Since 2013, when Kyoto University and CNRS entered into an academic exchange agreement, the two have been actively engaged in advanced collaborative research. LIA-Smolab, which was established in accordance with the agreement, is expected to be a new node for France–Japan collaborative research projects.

The signing ceremony to inaugurate LIA-Smolab was held on 9 October 2018. Attendees included Professor Kitagawa (iCeMS Director), Dr Juichi Yamagiwa (President of Kyoto University), Professor Antoine Petit (Chairman and CEO of CNRS), Minh-Ha Pham (Vice-President of Paris Sciences & Lettres Research University), and Philippe Queille (Vice-President of Air Liquid).

LIA-Smolab aims to advance the development and application of PCPs, which have countless small holes that trap gases and were originally developed by Director Kitagawa. LIA-Smolab will gather the most advanced technologies from Japan and France. In addition to Director Kitagawa, who is the leader in PCP research, Japanese and French specialists in the fields of catalysis, molecular simulations and modeling, and gas separation, including Dr David Farrusseng (Principal Investigator of CNRS) and Dr Francois-Xavier Coudert (senior research fellow of CNRS), will actively participate in research at LIA-Smolab.

In addition to strengthening the ties between Kyoto University and French research institutes, this collaboration will contribute to the development of gas recovery and separation technologies using PCPs and PCP-based catalysts.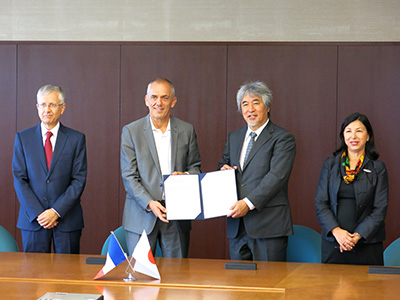 From left: Air Liquide Group R&D Vice-President Queille, CNRS Chairman and CEO Petit, KyotoU President Yamagiwa, and PSL Vice-President Pham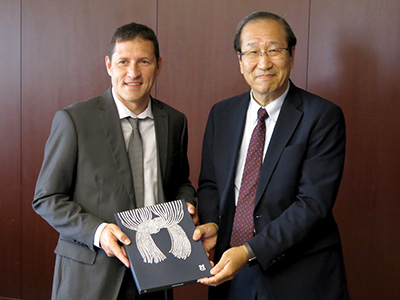 iCeMS Director Kitagawa (right) and CNRS Principal Investigator Farrusseng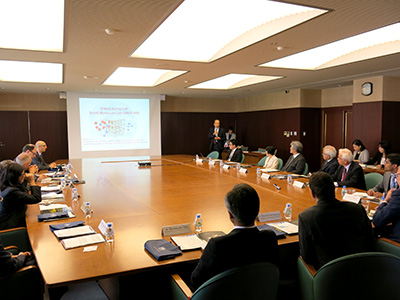 Director Kitagawa delivering a presentation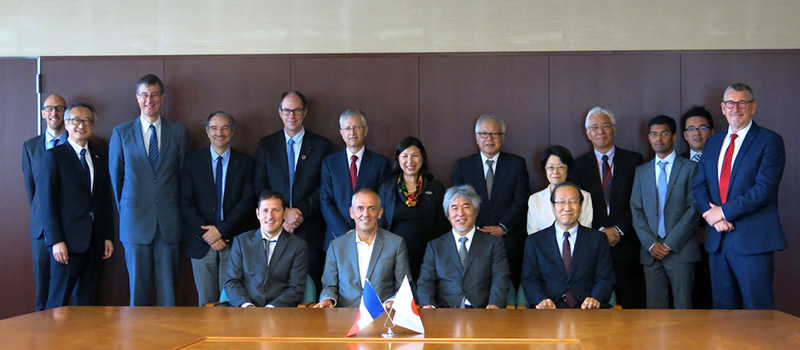 Related departments & centers