The seminar series was launched in November 2009 with the aim of promoting development and applications of regenerative medicine research using embryonic, somatic, and induced pluripotent stem (iPS) cells, and to contribute to the advancement of medicine.

The seminar kicked off with remarks from KyotoU Hospital's Director Nobuya Inagaki. These were followed by a lecture from Dr Masazumi Kamohara, head of IRM Satellite Office of Astellas Pharma Inc, entitled "Astellas' engagement in regenerative medicine research". Academic lectures were then delivered by three KyotoU researchers: "Regeneration of tumor antigen-specific T cells using iPS cell technology — Development of 'off-the-shelf' T cells for the use in allogeneic transfusion settings" by Professor Hiroshi Kawamoto of the Institute for Frontier Life and Medical Sciences; "Development of regenerative medicine for kidney diseases using nephron progenitor cells" by Dr Toshikazu Araoka, a researcher at the Center for iPS Cell Research and Application (CiRA); and "Research on pathological analysis and drug development for hematological diseases using human iPS cells" by Dr Yoshinori Yoshida, associate professor of CiRA. The presentations engaged the attention of the audience by highlighting the latest in regenerative medicine and iPS cell research.

Finally, CiRA Professor Koji Eto delivered a special lecture entitled "Producing iPS cell-derived platelets — From in-vitro cell culture technique to clinical trial". The ensuing Q&A session evoked a lively discussion, which concluded the event on a high note.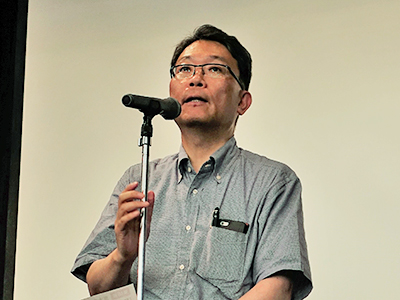 Hospital Director Inagaki delivering opening remarks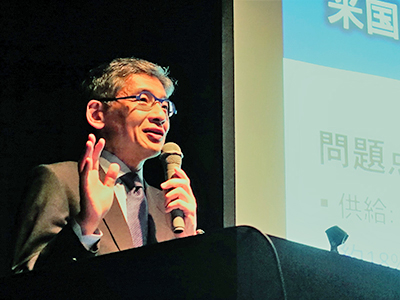 CiRA Professor Eto delivering a special lecture
Related departments & centers