On 2 March 2018, the ceremony for the tenth Kyoto University Tachibana Award for Outstanding Women Researchers took place to honor the University's early-career female scholars recognized for exceptional achievements.
Dr Kayo Inaba, executive vice-president for gender equality, international affairs, and public relations, and chair of the Award selection committee, opened the ceremony with comments on the 2017-2018 selection process. President Juichi Yamagiwa then presented the winners with certificates and plaques: Ms Chie Morimoto, second-year PhD candidate at the Graduate School of Medicine (Student Category), and Dr Miho Ishii, associate professor of the Institute for Research in Humanities (Researcher Category). The Wacoal Prize was also presented to each awardee by Mr Hironobu Yasuhara, president and representative director of Wacoal Corporation.
The Honorable Mentions presentation followed, with President Yamagiwa and President Yasuhara presenting certificates and additional prizes to Ms Akiko Hanai, third-year PhD candidate at the Graduate School of Medicine (Student Category), and Dr Kanae Miyake, assistant professor of Kyoto University Hospital.
President Yamagiwa delivered an address, wishing the awardees continued success. President Yasuhara followed with his own congratulatory remarks.
The Tachibana Award winners then made captivating presentations on their research: "Kinship determination based on comprehensive analysis of nucleotide polymorphisms (SNPs)" by Ms Morimoro, and "Anthropological studies of religion, nature, and modernity in West Africa and South India" by Dr Ishii.
The lively event concluded with an address from Dr Shinsuke Kawazoe, executive vice-president for student affairs and library service.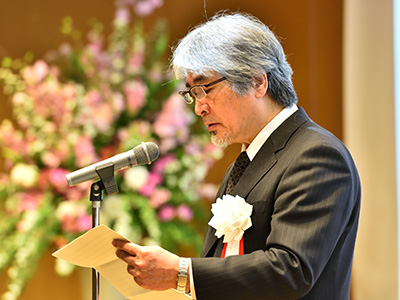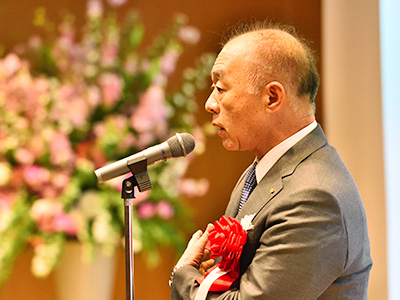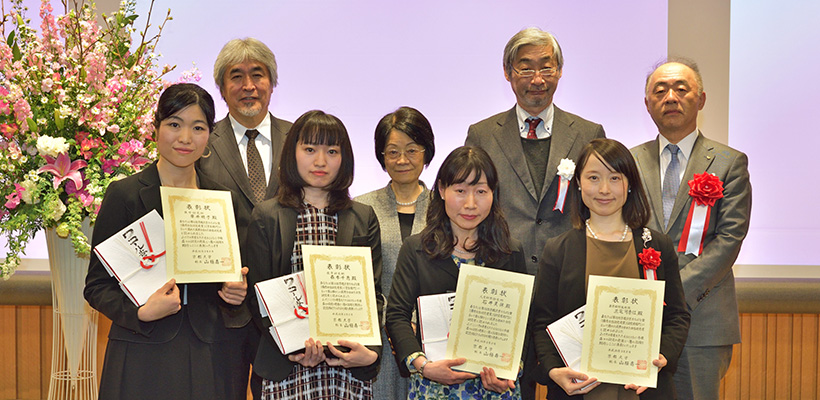 Related departments & centers