On 9 November, Rakuseikai, a Kyoto University alumni association based in Singapore, held a meeting with Japanese Ambassador to Singapore Kenji Shinoda (Faculty of Law 1976). 47 members were in attendance. Rakuseikai consists of KU graduates residing in the city-state and Singaporeans who have studied at the University.
Ambassador Shinoda delivered a speech discussing cooperation between Japan and Singapore, whose diplomatic relations marked the 50th anniversary last year. He stated that the two countries should strengthen their partnership over the coming years, and support efforts of Japanese and Singaporean businesses to expand into other markets together. He also introduced the Japan Creative Centre, a part of the Embassy of Japan, established in 2009 to showcase the country's creative talent.
A meet-and-greet followed, which started with Rakuseikai Chairman Masakazu Yoshida (Faculty of Engineering 1967) making a toast and expressing hope that Rakuseikai would grow into a human-resources network platform that can contribute not only to the KU alumni community but to society as a whole.
Thirteen new members then introduced themselves, and two KU undergraduate students studying in Singapore delivered greetings. Following the introductions, members from each generation shared their recollections of their time at Kyoto, before Rakuseikai's golf event organizer Takamitsu Kurokawa (Faculty of Engineering 1985) reported on his team winning the 21st All Japan Intercollegiate Championship in Singapore, a golf competition for graduates of Japanese universities.
The meeting wrapped up in a lively mood with, as always, all joining in KU's rallying song "Shinsei no Ibuki".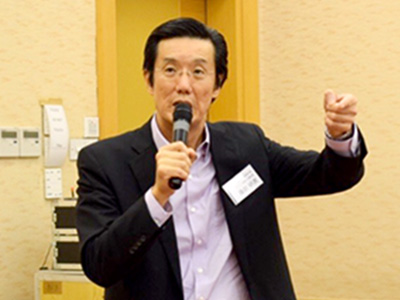 Ambassador Shinoda greeting the Rakuseikai members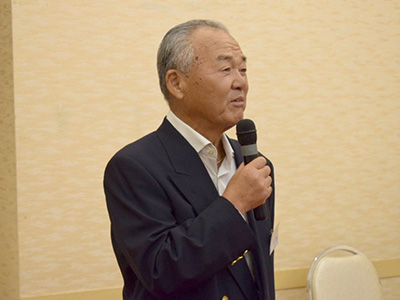 Chairman Yoshida delivering remarks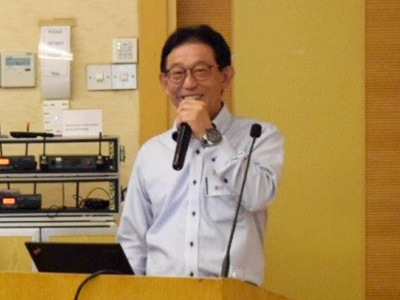 Golf event organizer Kurokawa delivering a report

Meeting participants