Student Lounge KIZUNA's November event, held on Thursday the 16th, was an ukiyo-e carving and printing workshop taught by professional craftsmen from Takezasado Co Ltd.
Participants began by tracing New Year-themed illustrations onto woodblocks. They then worked on carving out the transferred images, following the guidance of a hori-shi (carver). Many struggled with chiseling out thin curved lines, but everyone eventually produced a wood piece with a warm, handmade feel.
Before going on to produce prints with their carved woodblocks, participants watched a demonstration by a suri-shi (printer), who printed Katsushika Hokusai's iconic Kanagawa Oki Namiura (The Great Wave off Kanagawa). The crowd erupted in cheers as the craftsman produced an intricate work of art.
After the demonstration, the students printed their New Year's cards with gold ink. Everyone took home their finished cards and woodblocks as souvenirs.
The event provided a great opportunity for everyone to experience a traditional Japanese art craft and enjoy multi-cultural communication.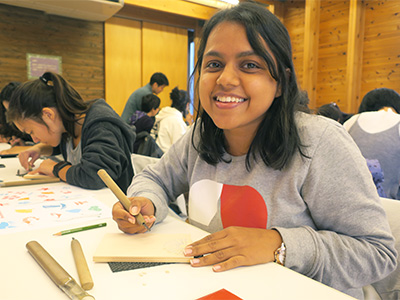 Carving woodblocks (1)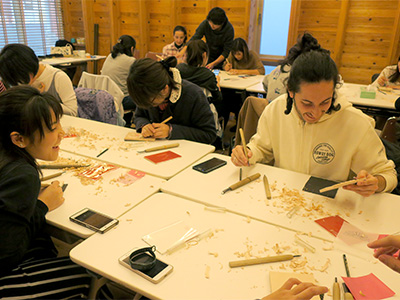 Carving woodblocks (2)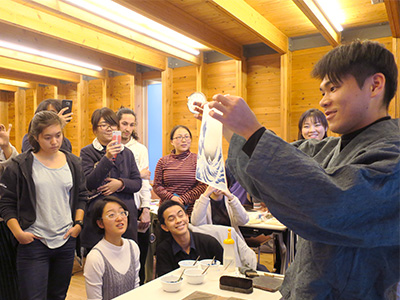 Demonstration by a suri-shi (printer)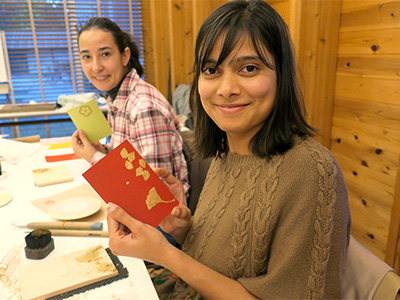 Related links