Student Lounge KIZUNA's September event was a kabuki music class, held Tuesday the 26th at j-Pod (International Seminar House). As with similar and highly successful events held last October and this March, instruction was provided by members of Kantakeno no Kai, who used to teach shamisen (three-stringed banjo) and nagauta (songs from kabuki) at the Kyoto International Community House and other venues.
Participants first listened to the instructors' performance of nagauta "Miyako-dori" (bird of the capital), and attended a brief lecture, before splitting into shamisen and nagauta groups to take turns practicing the song "Sakura Sakura".
Through the lessons, participants learned some of the basics of Japanese music, including how to read traditional music notation and how to hold a shamisen and a plectrum, as well as the meaning of the song's lyrics. They worked diligently under the instructors' step-by-step guidance, eventually learning to sing and perform together excellently in spite of the workshop only lasting two hours.
The event provided a great opportunity for all to experience a Japanese traditional performing art and to get to know each other.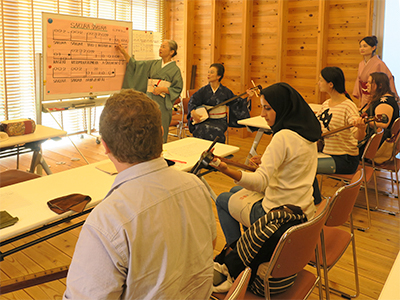 Learning how to read traditional sheet music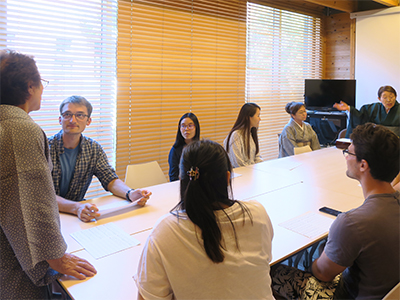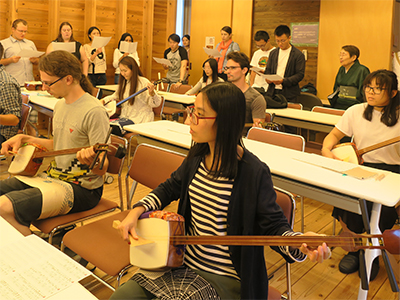 Performing "Sakura Sakura" together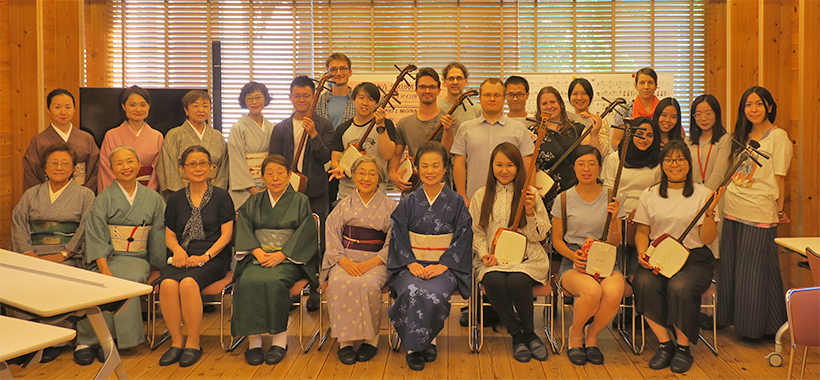 The instructors and participants
Related links