On 22 June, KIZUNA hosted a Nankin-tamasudare and rakugo show/workshop, featuring Mr Kanta Okidokitei as the performer/instructor.
The event began with Kanta's English Nankin-tamasudare show, which took the audience on a trip around the world with the performer twisting, folding, and extending his sudare (bamboo screen) -- while also chanting an accompanying poem -- to portray iconic sites and objects from various destinations. The crowd seemed to be fascinated by the way the screen kept changing shape at the hands of the entertainer.
The participants then tried it for themselves. Nobody had ever experienced the art, and initially seemed to have difficulty working with sudare. After diligently practicing under Kanta's guidance, however, all of them eventually learned to turn their bamboo screens into the Golden Gate Bridge, Tokyo Tower, and various animals.
The second part of the event focused on the rakugo comic storytelling, and opened with Kanta performing "Irachi Guruma", a classical story about extremely slow and fast rickshaw rides. The story was told in English. A workshop followed, in which participants practiced short stories, with some going on stage to perform in front of the others and making them laugh.
Everyone enjoyed the opportunity of experiencing traditional performance art and making new friends.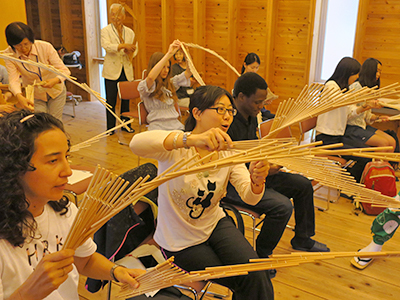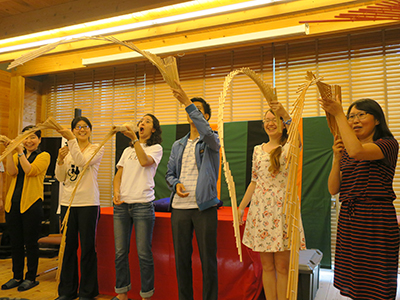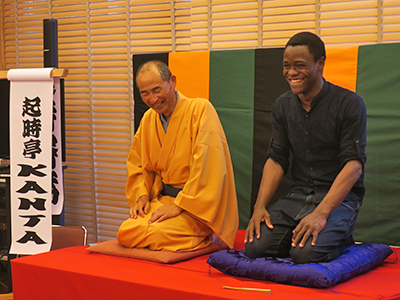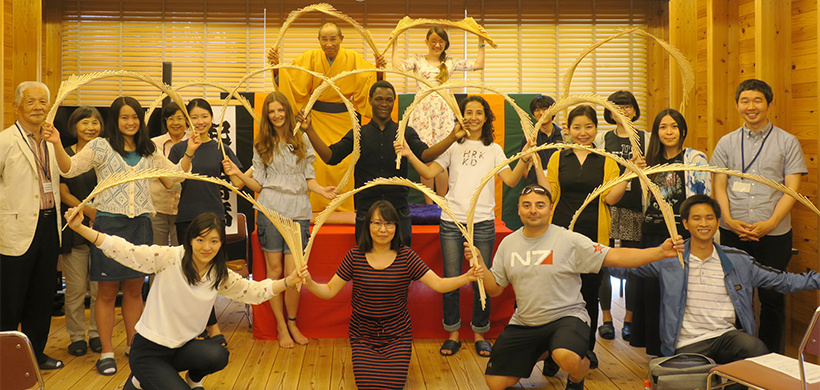 Kanta and event participants
Related link