On 8 March, Professor Naoki Shinohara and colleagues of the Research Institute for Sustainable Humanosphere (RISH) commenced an experiment to evaluate the practical viability of a wireless power transfer (WPT) system for electric vehicles. The team is based within the Kyoto University Center for Innovation (COI), and conducting its experiment at the Seika Town Office in the Soraku District of Kyoto Prefecture, with government support provided under the National Strategic Special Zones program. The project's primary objective is to identify the real-life benefits and limitations of this WPT system so that development can proceed to the next phase.
About the experiment
Efforts are intensifying across the world to develop practical WPT solutions and to standardize and commercialize related technologies. Most of the methods under development, however, are based on the use of a magnetic field, which enables transmission only between practically adjacent points.
Against this backdrop, Professor Shinohara's team invented a solution that involves converting electricity to microwaves, a type of radio wave, which are then transferred to a target located several meters away. This process requires both high transmission efficiency and low interference with other microwave-transmitting and -receiving devices, such as mobile phones, in order to work.
Based on these technologies, the team worked with Mitsubishi Heavy Industries Ltd (MHI) to develop a wireless charger for electric bicycles. Powering a vehicle involves a relatively large amount of electricity, requiring effective safety and interference-reduction features. The WPT system that resulted from the Shinohara-MHI collaboration enables safe, low-interference transmission by effectively controlling microwave beams to minimize unnecessary radiation. It also features a newly developed interference-resistant microwave oscillator.
To identify the benefits and limitations of this system in real-life settings, the project team has obtained an "experimental radio station" license from the Kinki Bureau of Telecommunications so that it can conduct the necessary microwave experiments. It has already carried out test runs of wirelessly powered bikes on Kyoto University's campus grounds.
Other efforts
In addition to conducting research and development, the team aims to work on the standardization and commercialization of WPT technologies in collaboration with the Wireless Power Transfer Consortium for Practical Applications (WiPoT) and Broadband Wireless Forum (BWF).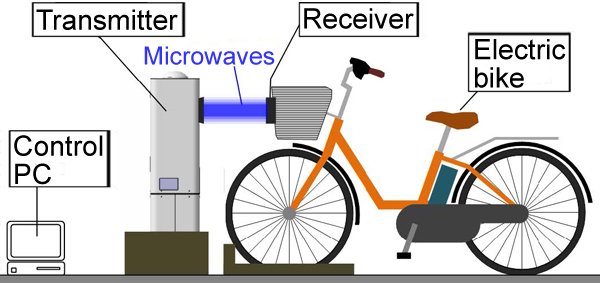 Experimental setup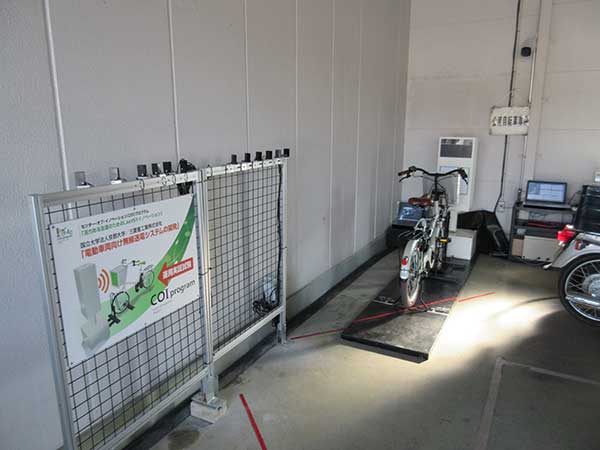 WPT system being tested at the Seika Town Office
Related departments & centers