Kyoto University Hospital's Institute for Advancement of Clinical and Translational Science (iACT) hosted its second international symposium for International Clinical Trial Center Network (ICN) at Shiran Kaikan, funded by Kyoto City's "Subsidy for Holding MICE (meetings, incentives, conventions, exhibitions and events) in the Kyoto-style" and the university's "Grant for Holding International Symposia". Eleven institutions from the US, Europe, and Asia, and clinical research support centers from 16 universities in Japan, which are collaborating with iACT, participated in the symposium.
Established in September 2015, the International Clinical Trial Center Network (ICN) consists of world-leading clinical research institutions playing central roles in the US, the UK, Germany, Turkey, Switzerland, Singapore, China, and Japan. KU Hospital's iACT has been participating in ICN as its founding member.
In this second symposium, the international network of participants actively discussed the state of clinical research, especially how to increase efficiency while maintaining high quality. Guest speaker Dr Yoichi Kurebayashi, director of Department of Innovative Drug Discovery and Development at the Japan Agency for Medical Research and Development (AMED), delivered a lecture on "AMED's Strategy for Innovative Drug Discovery and Development". Professor Kenji Kabashima of the Graduate School of Medicine, Kyoto University, and Professor Ken-ichiro Kosai of the Graduate School of Medical and Dental Sciences, Kagoshima University, then delivered presentations on their research. Professor Nobuya Inagaki, Director of the Kyoto University Hospital, concluded the symposium with remarks expressing his high expectations for ICN institutions to contribute to the advancement of clinical research on a global scale.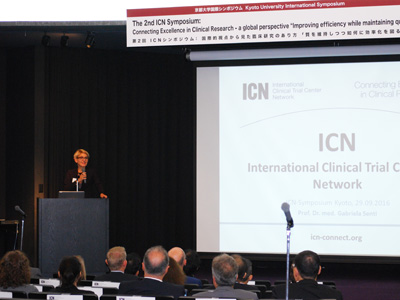 At the symposium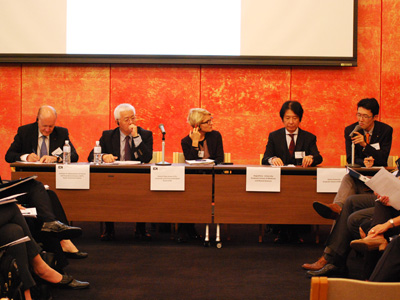 The panel discussion

Symposium participants
Related link
Related departments & centers