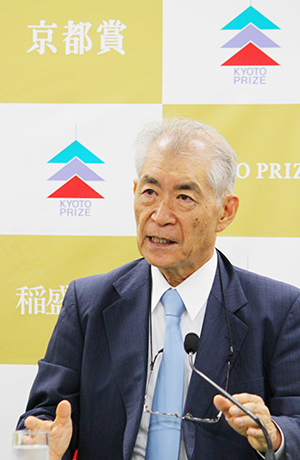 Professor Honjo speaking to reporters
On 17 June, the Inamori Foundation announced Kyoto University Professor Emeritus Tasuku Honjo as the recipient of the 2016 Kyoto Prize in Basic Sciences.
The Kyoto Prize is an international award that annually recognizes individuals "who have contributed significantly to the scientific, cultural, and spiritual advancement of mankind" in three categories -- Advanced Technology, Basic Sciences, and Arts and Philosophy. The year 2016 marks the 32nd year of the prize.
Professor Honjo is widely cited for his work on the "elucidation of the mechanism responsible for the functional diversification of antibodies, and the discovery and clinical application of immunoregulatory molecules". The Inamori Foundation states that he "uncovered the mechanism of functional diversification of antibodies by identifying the process involved, known as class switch recombination (CSR), and the role of activation-induced cytidine deaminase (AID) in this process. Additionally, he discovered several important immunoregulatory molecules, including PD-1, and identified their functions, paving the way for the development of effective cancer immunotherapy. These achievements have had profound impact on life science and medical research, and their clinical applications have contributed significantly to the betterment of human welfare."
The award ceremony is set to take place 10 November 2016 at the Kyoto International Conference Center.
Related link